MEDIA CONTACT:
Janelle Tassart
C: 480.215.2149| O: 602.495.6480
jtassart@phoenixchamber.com
FOR IMMEDIATE RELEASE:
April 25, 2019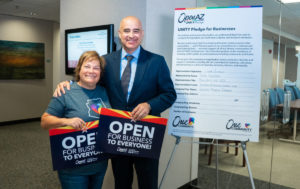 Phoenix, AZ—The Greater Phoenix Chamber's board of directors voted unanimously on Thursday to sign ONE Community Foundation's UNITY Pledge, reaffirming the Chamber's commitment to strengthening Arizona's economy and workforce through equality and inclusion.
The UNITY Pledge, created by ONE Community, is a concerted effort by Arizona businesses and individuals to advance workplace equality and equal treatment in housing and public accommodations for Lesbian, Gay, Bisexual, and Transgender (LGBTQ) individuals and their allies. The UNITY Pledge is the largest equality pledge in the nation signed by over 3,200 businesses and 20,000 individuals.
"The Greater Phoenix Chamber is proud to sign the UNITY Pledge today. Workplace equality, diversity, and inclusion are values that have been engrained in our organization, as well as the state of Arizona for many years. We know that a community that is united in equality will make our state a more attractive place for businesses to grow and thrive, and top talent to live, work and play," said Todd Sanders, President & CEO of the Greater Phoenix Chamber.
Only five municipalities, including the City of Phoenix, have non-discrimination ordinances that are inclusive of LGBTQ people, but Arizona's statewide non-discrimination law does not include LGBTQ people in the areas of employment, housing or public accommodations like hotels, hospitals and restaurants.
"Our Chamber remains committed to hiring top talent to deliver valuable programs and services to our more than 2,400 business members, and the community at large," said Sanders. "Regardless of the state's nondiscrimination laws, we remain steadfast in our pledge to build a diverse and talented team to serve the community."
"We are so proud to welcome the Greater Phoenix Chamber into the UNITY Pledge family.  The Chamber's commitment to equality sends an important message that equality is good for business and all are welcome here," said Angela Hughey, President and Co-Founder of ONE Community and ONE Community Foundation. "We thank them for their leadership in creating an Arizona that is open for business to everyone!" concluded Hughey.
Over the past year, the Chamber has amplified its efforts in the area of diversity and inclusion, with the formation of a diversity and inclusion committee to develop resources for businesses that will help them embrace this important initiative. The Chamber's diversity & inclusion employer toolkit will launch this year.
"The Greater Phoenix Chamber has been a leading organization in Arizona for more than 130 years, and we are pleased to be a leading voice in diversity and inclusion by signing the UNITY Pledge. This is just one of many steps the Chamber will be taking to promote a more inclusive Arizona. We know that community and economic growth is possible only in an environment that is conducive to all backgrounds and points of view," says Sarah Strunk, chairwoman of the Greater Phoenix Chamber board of directors.
The signing of the UNITY Pledge is supported by the Chamber board of directors, as well as the Chamber staff.
About the Greater Phoenix Chamber
Representing 2,400 businesses across the Greater Phoenix region, the Greater Phoenix Chamber promotes regional prosperity by serving as a catalyst for economic vitality and strong communities. The Chamber pursues this mission by collaborating with business, political and community leaders to grow the regional talent pool, create a regional approach to economic development and drive a pro-Arizona agenda.
About ONE Community
Since our inception in 2008, ONE Community has evolved into member-based coalition of socially responsible businesses, organizations and individuals who support diversity, inclusion and equality for all Arizonans.  We are committed to reshaping Arizona's image through educating, empowering and connecting our diverse LGBTQ and allied communities on the benefits of inclusion and its direct impact on attracting and retaining top talent and businesses—and thereby, ensuring our state's economic sustainability.
About ONE Community Foundation
The ONE Community Foundation is committed to diversity, inclusion and equality for all Arizonans.  We are committed to reshaping Arizona's image through educating, empowering and connecting our diverse LGBTQ and allied communities on the benefits of respecting, protecting, and celebrating all who live in our great state.
###
Follow online:
@phxchamber
facebook.com/phxchamber
Learn more:
www.phoenixchamber.com
info@phoenixchamber.com
602.495.2195 кредит онлайн