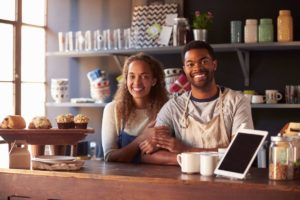 Earlier this month, the nation recognized National Small Business Week, which celebrates the economic contributions and importance of the country's small business owners and entrepreneurs.
Across the nation, nearly half of all Americans either own or work for a small business. In Arizona, where small business is king, enterprising companies are even more important. According to the Small Business Administration, there are more than 553,000 small businesses—these companies employ approximately 1 million Arizonans. Companies with "fewer than 100 employees have the largest share of small business employment."
The Greater Phoenix Chamber acts as a champion for small businesses in the Greater Phoenix region.
From supporting 23.1% of Arizona's $20.9 billion in total exports to creating thousands of jobs every year, small businesses power Arizona's economy, and they are continually moving Phoenix forward.
As a key pillar of the Chamber's Economic Development principle, the Chamber conducts Business Retention & Expansion (BRE) visits.
The Chamber's BRE program is a collaborative effort with the Arizona Commerce Authority, City of Phoenix and Maricopa County focusing on businesses located in Arizona that are employing community members and contributing to the region's economic health. These existing companies are responsible for 80% of the new jobs created.
The BRE visits provide personalized connections with the resources needed to overcome business challenges. Based on findings from the visits, the BRE team coordinates with organizations and relevant agencies to help business owners resolve issues and capitalize on growth opportunities.
During FY19, the Chamber connected a start-up company that was struggling to survive to the Small Business Development Center (SBDC). The business owner took the Business Financials course and credited the course with "saving her business." This is just one example of the impact of connections made through the BRE program.
Since 2015, the Chamber and the BRE program partners have conducted more than 4,000 collective BRE outreach visits.
In addition to the BRE visits, the Chamber offers small business and entrepreneurial resources to companies seeking guidance.
While National Small Business Week was only officially recognized between May 5 and May 11, the Chamber recognizes and celebrates the importance of small business all year.
Every year the Chamber honors four small businesses as a part of the IMPACT Awards program. The 2019 IMPACT Award recipients in the business sector with 250 or fewer employees include the Desert Botanical Garden, Elontec, University of Advancing Technology, and Urbix Resources, LLC. These four entrepreneurial companies will receive their award on May 23, 2019, at the IMPACT Awards Luncheon.
­-Written by Miranda Cain-Morton, Development and Communications Manager займ без отказа
онлайн займы заявка на займ онлайнзайм от 18 лет на картуглавный займ красноярск займ в новороссийскезайм исправить кредитную историюзайм онлайн на киви без паспорта займ на qiwi кошелёкзайм с доставкой на домзайм по телефону на карту займ 1000 рублей онлайнзайм онлайн на карту кукурузазайм webbankir