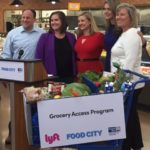 The program will improve access to healthy food options for Phoenix, Tempe and Glendale residents in "food deserts"
WHAT:
Lyft, in partnership with Food City and Valley of the Sun United Way, will announce more details about the launch of the Grocery Access Program in Phoenix, which aims to improve access to healthy foods for Phoenix, Tempe and Glendale residents living in food deserts.
WHEN:
Tuesday, May 21, 2019
10:45 a.m. Media check-in
11 a.m. Press conference begins
11:30 a.m. Interview opportunities
WHERE: 
Food City Supermarket
845 W. Southern Ave. (7th Avenue and Southern)
Phoenix, 85041
WHO:                                       
Phoenix Mayor Kate Gallego
Drena Kusari, Regional Director, Lyft
Nancy Dean, Chief Strategy and Program Officer, Valley of the Sun United Way
Edward Basha III, President &  CEO, Bashas' Family of Stores
HOW:
Using the code FOODACCESSPHX, residents will receive discounted Lyft rides to and from 16 Food City locations in Phoenix, Glendale and Tempe. Riders will pay only $2 for a ride to or from Food City, with Lyft, Food City and United Way subsidizing fares up to $15. Riders can take 12 round trips between now and Sept. 1, 2019.
WHY:
According to Lyft's Economic Impact Report, 46% of Phoenix rides start or end in low-income communities. Many of these neighborhoods also are considered food deserts. Lyft, Food City and United Way anticipate the Grocery Access Program will make it easier, faster, and less expensive for residents in these areas to go to the grocery store.
MEDIA CONTACTS:
Lyft: Katy Springer, katy.springer@laneterralever.com or 415-999-6130 (m)
Food City: Kristy Jozwiak, kristy@dualitypr.com or 602-741-5161 (m)
United Way: Tom Evans, tom@evanscommunications.com or 602- 448-5483 (m)
About Lyft
Lyft was founded in 2012 by Logan Green and John Zimmer to improve people's lives with the world's best transportation. Lyft is available to 95 percent of the United States population as well as select cities in Canada. Lyft is committed to effecting positive change for our cities by offsetting carbon emissions from all rides, and by promoting transportation equity through shared rides, bikeshare systems, electric scooters, and public transit partnerships. For more information, visit Lyft.com.
About United Way
Since 1925, Valley of the Sun United Way has unified diverse partners, donors, business supporters, nonprofits, government and faith-based communities to build a stronger Valley for us all. United Way and its 90,000 donors, 400 business supporters and 5,000 volunteers fight to break the cycle of poverty by ensuring children and youth succeed, ending hunger and homelessness, and increasing the financial stability of families. Join the fight, visit vsuw.org.
About Food City
Food City is an everyday-low-price grocery store for price-conscious shoppers. With a more-than-60-year reputation of service to the Hispanic community in Arizona, Food City carries aisles of traditional Mexican foods along with items found in a traditional grocery store. Food City also reaches out to the community by hiring people from the neighborhoods it serves. The community-focused grocery store is known for holding car seat and water safety events, mobile dental clinics, back-to-school immunizations, backpack giveaways, and other cultural celebrations. For more information, visit myfoodcity.com.
###