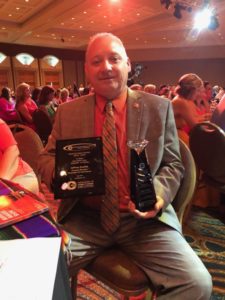 As a Senior Business Development Executive connecting Valley businesses with the vast array of tools and services provided by the Greater Phoenix Chamber (the Chamber), Jeff Durbin has been a driving force of the Chamber since 2010.
Last week, Durbin was recognized with the Diamond Lifetime Sales Achievement Award and with the No. 1 in Sales Award for the third straight year from the Association of Chamber of Commerce Executives (ACCE) during the 2019 ACCE annual convention. The award recognizes chamber employees around the country with lifetime sales above $1.5 million and the top sales in the country based on chamber size. To date, he's received six sales achievement awards—three Lifetime Achievement Awards and three No. 1 Sales Awards.
"Jeff absolutely deserves to be recognized for his dedication and diligence in his role," said Todd Sanders, President & CEO of the Chamber. "His most recent awards showcase his expertise and perseverance."
Durbin's lifetime sales figure has now surpassed $1.65 million, although he doesn't measure his success with sales figures. He measures his success by the quality of connections he makes between members to help their businesses succeed.
"Selling Chamber memberships accounts for a small portion of what I do every day," said Durbin. "My true passion is assisting our members, and ensuring they have access to the Chamber tools to help their business succeed."
Once a company joins the Greater Phoenix Chamber, they are welcomed into the Chamber family. Durbin diligently connects with members to ensure they are maximizing the Chamber membership. Specifically, he connects them to networking and professional development opportunities, introduces them to the Chamber's advocacy and economic development efforts, and helps them connect with other business leaders.
"I follow up and help them get plugged into our amazing network and programs," said Durbin. "I like to touch base with every new member with friendly reminders to help them use their membership to its fullest potential."
Durbin has been in the chamber of commerce industry for nearly 16 years. He sold his first Greater Phoenix Chamber membership in February 2010 on his second day on the job, to Big Brothers Big Sisters of Central Arizona. Prior to working with the Chamber, he was with the Tucson Metropolitan Chamber of Commerce.
"Jeff's service to our members and the Chamber is beyond compare," said Debbie Drotar, the Chamber's Director of Business Development. "This award is well earned and an excellent platform to thank him for his commitment to our members, and his passion for helping businesses in our community thrive."
Even though the Chamber is comprised of over 2400 members with more coming in every day, Durbin personally welcomes every single new member to the Chamber.
"I am proud of the efforts and time I've dedicated to our members and future members," he said. "I look at all the people that I've worked with at the Chamber and am thankful for the opportunities that have given me the ability to continue to do this at the highest level."
– Interested in learning how the Chamber can benefit your business? Want to make sure you're taking full advantage of your existing membership? Contact Jeff Durbin at (602) 495-6482 or jdurbin@phoenixchamber.com. займ на карту
hairy girl срочно займ онлайн на картузайм получитьвзять займ с плохой кредитной историей онлайн займ пенсионераминтернет займзайм переводом contact займ в москве по паспортукак оплатить займ екапустазайм онлайн с 18 лет