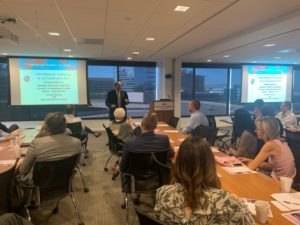 On August 21, the Greater Phoenix Chamber hosted Michael Toscano, former President & CEO of the Association for Unmanned Vehicle Systems International, at the Economic Development Insider Series (EDIS).
"Technology is going fast and furious, whether you like it or not" said Toscano.
This bimonthly, hour-long program is the Greater Phoenix Chamber's exclusive series featuring insider information about the hottest economic and workforce development trends in Greater Phoenix.
During his presentation, Toscano discussed how unmanned systems are transforming the way people live and work.
"We don't know how this technology will change our lives," said Toscano. "We won't know until we start infusing it into our lives and then we will come up with things that people will never have thought of."
Toscano shared that revolutionary technology has been disrupting economic systems for more than a century.
"One hundred and twenty years ago, most people owned a horse, and if you were rich, you owned a car. Now, most people own a car, and if you're rich you own a horse," said Toscano.
He shared that revolutionary technology, like unmanned systems, will change lives because that technology has the power to be more effective and efficient.
Toscano said that three things designate whether or not a new technology will be successful. Specifically, a new technology has the potential to be successful if it will improve costs, improve services, and/or decrease risks.
In terms of economic change, Toscano highlighted that revolutionary technology has the power to transform economic systems in unimaginable ways.
"You are going to change the way you do business because of this technology," said Toscano.
Specifically, he shared that unmanned systems will eliminate jobs. However, he also shared that is will also create new jobs in new sectors that don't, and can't, exist yet.
"There used to be phone booths and phone books. And there used to be a person who managed the phone booths. All of those jobs are gone now," said Toscano. He noted that there are a whole new set of jobs, at a much higher wage, as a result of the iPhone, including app developers.
Regarding unmanned vehicles, he shared that there will be challenges in making this shift.
"There is going to be a downside to this technology, by definition. But the upside can be so great that [it will succeed]," said Toscano. "But there needs to be infrastructure [for this]."
He shared that this shift will require new infrastructure to facilitate this change, leadership at every level of government to adapt and create new regulatory schemes to support this industry, and the cultural shift of moving to unmanned vehicles. However, he highlighted that there are generational differences in expectations—younger generations will demand unmanned systems to make life more efficient.
"It is going to have a major effect on everything we do," said Toscano. "[But] technology always wins."