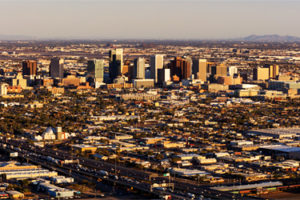 Arizona's economy is booming. According to a recent report from the U.S. Bureau of Economic Analysis, in 2018, the state's GDP grew by 4%. This growth rate makes Arizona the fourth fastest-growing state in the country. From an increased GPD growth rate to a growing population and rising personal income, Arizona's economy is only getting hotter.
While the substantial growth is great for businesses and Arizonans, it requires a robust construction sector that can meet those ever-increasing demands. In January 2019, approximately 168,800 individuals were employed in the construction industry across Arizona.
This great economic mobility is threatened by a waning workforce that is slowing growth and delaying projects. In order to meet demands, construction employers need more people. Currently, 93% of industry respondents said in 2016 survey that labor shortages are preventing their business from growing. And that problem is only expected to grow.
According to the Associated General Contractors of America, by September of 2022—only three years from now—there will be 155,000 vacancies in construction. Compounding this problem, experts anticipate that 41% of current craft professionals will retire by 2031. That is nearly half of the existing workforce.
The existing and future shortages don't just hurt construction companies. They cause development delays, which pumps the brakes on economic growth for everyone.
Construction and skilled trade employers struggle to find and retain the talent they need to meet the demands of their businesses, in large part due to the decreased interest in construction careers.
These workforce challenges are the key reason behind the launch of Build Your Future Arizona (BYF Arizona), an industry-led and industry-funded awareness campaign, in partnership with Build Your Future to promote construction careers.
Launched on October 16th, BYF Arizona aims to increase awareness about the value and opportunity available in construction careers to a wide range of audiences that may not currently be aware of these high-potential positions.
Construction offers a career pathway that can provide a life of success, fulfillment, and growth. Individuals interested in construction careers can often earn while they learn, avoid student-loan debt, and be on track for quick career advancement.
Over the next few months, BYF Arizona will roll out an aggressive campaign to attract talent to the construction industry while also convening industry leaders and education partners to ensure that Arizona has robust construction talent pipelines.
Join the campaign to build Arizona's future! Learn more at arizona.byf.org. кредит онлайн
срочный займ займ на карту без паспортных данныхвзять займ под 0 на картузайм без фотографий взять займ в интернетебыстрый займ на карту мирзайм онлайн всем займ 10000 рублейзайм экспресс сыктывкарзайм сергиев посад