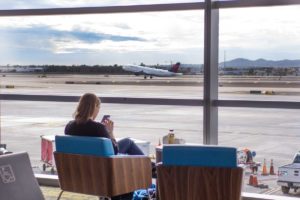 Holidays are a wonderful time of the year, and it's also one of the busiest times to travel.If you're planning to fly through America's Friendliest Airport® during this busy time of year, Phoenix Sky Harbor has some tips to ease the stress of holiday travel.
Arrive Early. Make sure to arrive a minimum of two hours before your flight and three hours if you're flying internationally.
Picking Up or Dropping Off? Save time and avoid roadway traffic when picking up or dropping off your party by using the 44th Street PHX Sky Train® Station. There's also a free and convenient cell phone waiting lot for you to wait.  The 44th Street Station is located on the Southwest corner of 44th Street and Washington.
Reserve Your Parking and Save Money. Get convenient terminal garage parking and save money by reserving your parking in advance through our Sky Harbor Discount Parking. This money-saving program is also available at the East Economy Lot, and Garages A and B. Sky Harbor offers travelers the only on-site parking. Visit skyharbor.com/parking to make a reservation.
Shopping and Dining Opportunities.  Phoenix Sky Harbor has a variety of shopping and dining options both before and after security. Looking for a souvenir with an Arizona flair or seeking a tasty, gluten-free meal? Don't panic – America's Friendliest Airport® has it.
Keep in Mind 3-1-1. Remember that you're allowed to bring a quart-sized bag of liquids, aerosols, gels, creams, and pastes in your carry-on bag and through the checkpoint. However, these are limited to travel-sized containers that are 3.4 ounces or less per item. And don't forget to look through your purse or carry-on bag for any prohibited items before you come to the Airport. Visit tsa.gov for information about what can be placed in your carry-on.
These are just a few handy, time-saving examples.  For more travel tips from America's Friendliest Airport®, visit skyharbor.com. кредит онлайн
займ на карту без отказов круглосуточно мфо онлайн займвзять займ на банковский счетзайм под материнский капитал ижевск онлайн займ на qiwiденьги на киви займчастный займ в нижнем новгороде онлайн займ займеркиви займ денегзайм без номера телефона