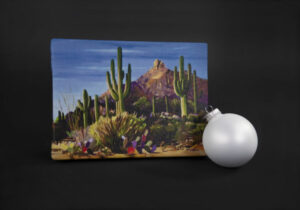 Are you a little stumped by what to give this holiday season? No need to worry, because America's Friendliest Airport® is making it easy to pick up great gifts for friends and family before you board the plane.
If you need to stock up on last-minute presents, check out Phoenix Sky Harbor's 2019 Holiday Catalog filled with gifts available at the airport's retail locations. Find the perfect gift for everyone in your family, including your pets and friends.
Whether you are shopping for jewelry, fragrances, treats, or apparel, you will be able to cross items off of your loved ones' wish-lists.
Every item in the catalog is available at a shop in one of Sky Harbor's three terminals.
The price, shop name, and location are listed with each gift idea, which includes items for children, a significant other, a furry friend, cacti lovers and more.
The online catalog features items from local retailers like Bunky Boutique and Roosevelt Row, as well as specialty items from regional and national stores.
Also, did you know that you can purchase products at Phoenix Duty Free even if you are not flying internationally? Phoenix Duty Free is located pre-security in Terminal 4 and easily accessible to all visitors. Ticketed passengers flying internationally can visit the post-security Phoenix Duty Free between Gates B17 and B28. Duty Free items are plentiful, ranging from classic and sophisticated perfumes and fragrances to stylish, wireless headphones to designer sunglasses, among other things.
For more information on airport shopping and to view the 2019 Holiday Catalog, visit skyharbor.com. кредит онлайн
быстрые займы онлайн займ экспресс нижневартовске заем второй займгде взять займ без процентов займ без проверокзайм с плохой кредитной историей на картузайм безработным без отказа новый займ на карту без отказазайм 500 рубзайм на карту до 5000