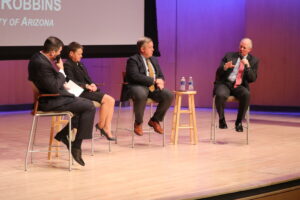 On February 6, the Greater Phoenix Chamber hosted Dr. Rita Cheng of Northern Arizona University (NAU), Dr. Michael Crow of Arizona State University (ASU), and Dr. Robert Robbins of the University of Arizona (UArizona) at the third annual Valley Voices: The State of Higher Education event for a community conversation on the importance of Arizona's university system and how it interplays with Arizona's economic future.
During the event, the Chamber's Public Affairs Chairman Jaime Molera moderated the dialogue between the three presidents. From a focus on the core purposes of Arizona's public universities to discussion on the new funding models and additional funding requests to support research and academic investments, the speakers focused on innovation in higher education and how that spurs innovation in Arizona.
"Each of us has the core assignment of being of service to Arizona," said Crow. For ASU, he shared, "Our assignment is to do all that we can to scale. […] We have this special assignment of scaling into the state as it evolves."
According to the Arizona Board of Regents (ABOR), the three universities supported a total of 195,672 enrolled students during the last academic year.
"We're talking about economic development and the future of Arizona, which is bright by the way," said Robbins. "I think people are going to be surprised how much is going on and how exciting it is to be in Arizona now."
As a part of this scaling, each university is growing in their areas of expertise and supporting Arizona's economic future through investments in individuals and new ways of learning and workforce development.
"We want to adapt our programs, and we want to ensure our students come out prepared to contribute to the economy," said Cheng. "Workforce is about listening to communities about needs. We have to have programs that meet the needs."
During this year's legislative session, ABOR and all three universities are seeking funding to support the "new economy initiative," which is an effort that the Chamber supports.
"This new initiative, the new economy initiative, is built on the assumption that the universities run themselves, and now we need […] to do something more," said Crow. "Arizona's economy turns out to be successful but not resilient."
The initiative is seeking to that with a $165 million funding request, according to ABOR, "focuses on laying the foundation for Arizona to become a Tier 1 state for the new economy, increase employment growth, and raise incomes."
"As we demonstrate our contribution, I believe that we can get bipartisan support to invest in all three of our institutions," said Cheng.
A core part of the funding request will support increased research and expansion of programs that will support Arizona's key industries.
"I think over the course of history, its hard to find big, booming economic development that's not tied somehow to universities," said Robbins.
­-Written by Miranda Cain-Morton, Development and Communications Manager взять деньги в долг на карту
займ на карту срочно без отказа беспроцентный займ физическому лицузаймер займ онлайнчастный займ в сочи займ денег под процентызайм онлайн исправление кредитной историизайм под залог недвижимости москва займ экспресс ступинозайм на кошелек срочноwebmoney кошелек займ