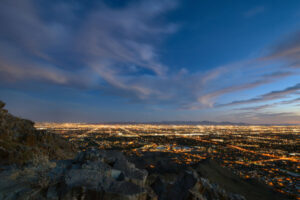 On February 19, the Greater Phoenix Chamber hosted a panel of local leaders who are focusing on business expansion efforts in Maricopa County at the Economic Development Insider Series (EDIS).
The Economic Development Insider Series is a bimonthly, hour-long program featuring insider information about the hottest economic and workforce development trends in Greater Phoenix.
The panel featured Dr. Randy Gibb, Dean of the Colangelo College of Business, GCU, Dr. Russ Heigh, Government Affairs Team Lead & Gastroenterologist, Mayo Clinic, and Mark Putrus, Vice President of Total Rewards & Talent Management, Zovio.
Each panelist provided an overview of their organization and projects they are currently working on.
Putrus began with a look at what characteristics Zovio was looking for when deciding to move their headquarters from San Diego to Maricopa County in 2019.
"Zovio's first priority was to look at the talent pool in the area and [which location] would offer a reasonable cost of living and a favorable business environment," said Putrus. "That is what we saw in Maricopa County and what ultimately led to us moving to Chandler."
Dr. Heigh highlighted the Mayo Clinic's 700-million-dollar building project that is underway, which will provide opportunities to explore additional digital technologies and regenerative medicine. This is the largest expansion in Mayo Clinic's history nationally.
Dr. Gibb discussed the dynamic economic impact GCU has had on the region through the expansion of the campus. GCU has provided funding to the local police department with the goal of creating a safer area. Since then, property values near the campus have increased over 300%.
Business is booming in Maricopa County, and as a result, it is one of the fastest growing counties in the country. Despite this growth, some companies are still experiencing workforce challenges.
"It's a hot labor market and very competitive, but identifying high-quality talent to bring in is a big struggle," said Putrus. "Today's talent is looking for more than just a job or career; they want a purpose."
According to Dr. Gibb, echoed those sentiments, stating that GCU's current challenge is ensuring their students graduate and are securing jobs following graduation.
"What are the results of our students who are graduating," asked Dr. Gibb. "The top talent of students graduating are looking for value alignment in the company they work for. We are trying to produce students in areas of need."
One area GCU is seeking assistance with is at the undergrad level. Specifically, the university is looking for support to  emphasize the importance of careers in less popular fields, such as analytics and insurance to high school students.
During this discussion, Dr. Heigh shared a unique challenge that Mayo Clinic is facing.
"We try to take challenges and turn them into opportunities," said Dr. Heigh. "For many people to get to us, there is a great distance to travel. The great technology of telemedicine has helped address that problem."
Dr. Gibb, Dr. Heigh, and Mr. Putrus all provided great insight into the benefits and challenges of business expansion efforts in Maricopa County, and it's clear it won't be slowing down.
Interested in learning more about the region's economic and workforce development trends? Attend the next Economic Development Insider Series on April 15. Register today!
–Written by Annelise Patterson, Marketing and Communications Coordinator