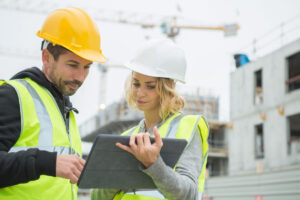 Last month, Build Your Future Arizona (BYF Arizona) held its first quarterly update following the October 2019 launch of the campaign. The event was hosted by Mike Brewer, chair of BYF Arizona's industry steering committee, at The Brewer Companies in North Phoenix.
First Quarter Update
On February 5, attendees heard updates from BYF Arizona leaders on the first quarter of the groundbreaking, industry-led career awareness campaign, received key information on early metrics of the campaign, and learned about exciting new developments.
In the first three months of the three-year campaign, BYF Arizona tallied more than 8 million media impressions and has already engaged more than 6,000 students and influencers via career days.
Arizona has really hit the ground running and made a tremendous impact in a short amount of time," said Jennifer Mellor, Chief Innovation Officer of the Greater Phoenix Chamber Foundation. "This campaign is going to help propel Arizona's construction industry forward and is key in closing this critical talent gap."
BYF Arizona has also expanded its partnerships with leading industry associations from 3 to 11, and welcomed several new investors. Notably, Lennar Homes announced, at the event, that they were upgrading their current investment to the Champion Level, and that Division President Alan Jones will be joining the steering committee.
Project Manager Josh Umar shared some early success stories, including a young woman named Martha, who was hired by Erickson as an estimator's assistant. She shared that without BYF Arizona, she would not have had the information or guidance needed to start her career.
Looking forward
Before the end of March, BYF Arizona will launch a dynamic career board that allows investors and partners to feature opportunities for individuals interested in constructing their career.
As BYF Arizona heads into its second quarter, the initiative will work to increase the presence of residential construction-related marketing materials in its advertising. The residential sector of the industry is an area that is uniquely hindered by the lack of available talent. As our region continues to grow—both Phoenix and Maricopa County are among the fastest-growing areas in the nation—the need for more housing is increasing. The lack of construction talent is hindering growth in this area and delaying key projects.
Accordingly, the campaign will begin utilizing imagery and stories from that sector in its marketing. The goal is to inspire the next generation to enter homebuilding and its associated trades as a career.
Spanish language materials are also in production, with Spanish versions of the website and videos coming later this spring.