On May 13, 2021 at the annual IMPACT Awards, the Greater Phoenix Chamber honored three individuals with the Sentinel Award and the new Civic Service Award. The Sentinel Award celebrates elected officials for their exceptional ability in leadership, collaboration, and advocacy on behalf of the business community, as well as accessibility to our Chamber members. The Civic Service Award honors an individual with significant contributions to the betterment of our state.
Sentinel Award Recipients
Representative Cesar Chavez is serving his third term in the House of Representatives, after first winning office in 2016 and being re-elected in 2018 and 2020. Representative Chavez currently serves on the House Appropriations and Judiciary Committees.
During his tenure at the Legislature, Representative Chavez has acted in true bipartisan fashion and is recognized as a go-to member on key issues facing the business community and beyond.
We are most thankful to Representative Chavez for his dedication and work on trade relationships with Mexico, Arizona's number one trading partner.
We thank Representative Chavez for being a calm and thoughtful voice at the Capitol and for voting in a common sense manner that benefits Arizona as a whole.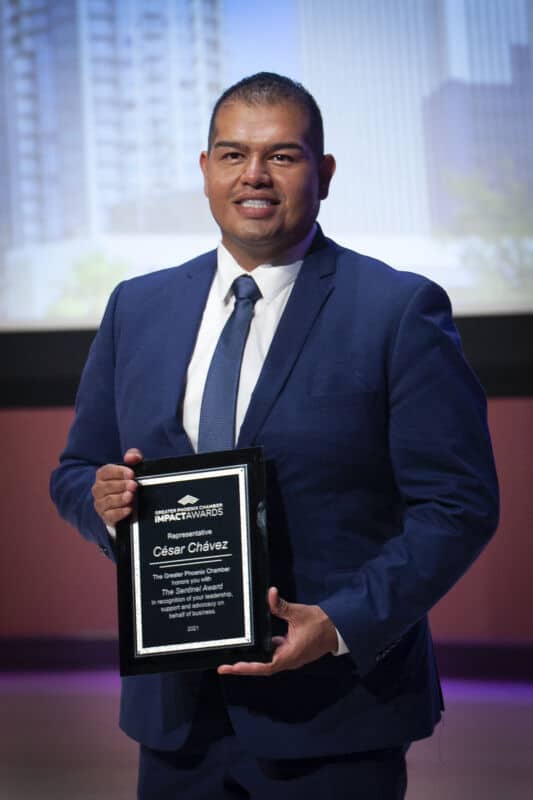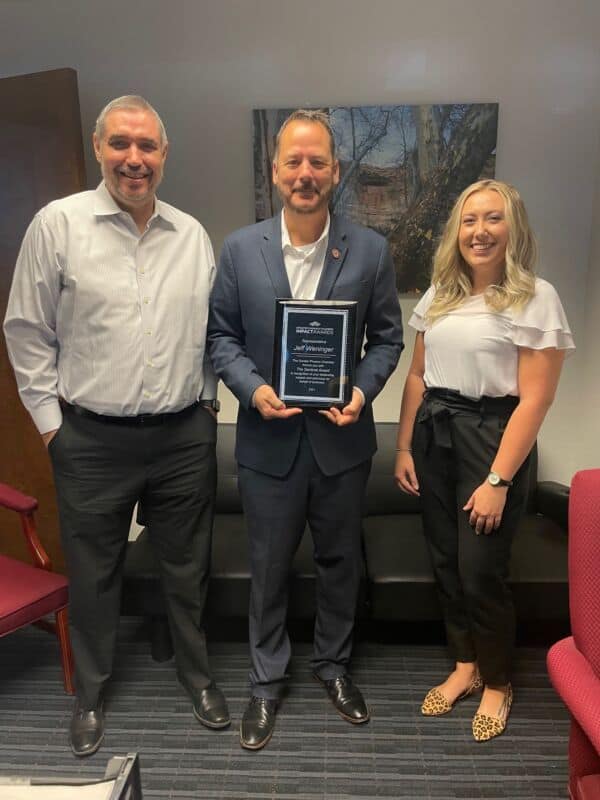 Representative Jeff Weninger is a long-standing advocate of Arizona's business community, He serves as the House Commerce Committee Chairman and has championed issues including fintech, regulatory reform, and most recently guided the gaming bill through house.
He has been a consistent champion of reducing regulations and streamlining government, and has assisted in crafting and advancing numerous pro-business policies.
Representative Weninger has been instrumental this year in helping secure passage of numerous bills the Chamber supported.
As a small business owner, Representative Weninger truly knows what it's like to sign the front of a paycheck and remains an active participant at all levels of our community.
Thank you, Representative Weninger, for your work to lead our state forward.
The Chamber is pleased to recognize Dr. Cara Christ, Director of the Arizona Department of Health Services, with the Civic Service Award.
After a year unlike any other, it was especially important to recognize someone who has been at the forefront to keep Arizonans educated and safe as we crossed uncharted waters through the COVID-19 pandemic.
Dr. Christ has a strong commitment to the health of the people of Arizona, as she demonstrated on the national stage while navigating our state through the pandemic this year.
She has been tirelessly keeping our community informed at every turn through regular reports, testing accessibility, and vaccine distribution.
Dr. Christ, her team, and members of Arizona's healthcare community led a mass vaccine program that became a national model that other states quickly followed and was praised all the way up to the White House.
Thank you, Dr. Christ, for the incredible work you are continuing to do to serve our community. We are sincerely grateful for your leadership and service.