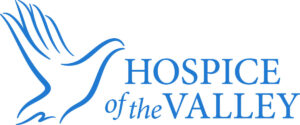 Registration is underway for the Adult Day Club at Hospice of the Valley's Dementia Care and Education Campus, opening in October at 3811 N. 44th St., Phoenix.
The Day Club is specially designed for people living will all types and stages of Alzheimer's and other dementias. Members experience a variety of stimulating programs, tailored to their interests and designed to create cognitive engagement — whether it's painting, dancing or interacting with preschoolers in the adjoining Child Care Center.
"The Adult Day Club helps families enrich the care of loved ones living with dementia. By exploring each person's unique potential, we have the opportunity to enhance quality of life and spark joy!" says Maribeth Gallagher, Dementia Program director at Hospice of the Valley. Here's what to expect.
Programs:
Art (painting, clay, woodworking, tactile projects).
Music (listening, dancing and creating).
Movement (yoga, stretching, courtyard strolls, wheelchair swing).
Education (nature, music, culture).
Services:
Lunch and snacks provided.
Personal care (brief changes, showers).
Social worker and nurse on campus.
Membership options:
Tuesdays and Thursdays.
Mondays, Wednesdays and Fridays.
Mondays, Tuesdays, Wednesdays, Thursdays, Fridays.
To learn more: Call (602) 636-6363 or email dementiacampus@hov.org.