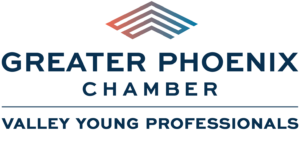 FOR IMMEDIATE RELEASE:
September 7, 2021
PHOENIX – The Greater Phoenix Chamber (the Chamber) announces its 2021-2022 Valley Young Professionals (VYP) Board of Directors. VYP, a program of the Greater Phoenix Chamber, is for Valley-area professionals ages 25-39 aimed at creating the next generation of Phoenix leaders by informing and educating its members on important issues facing the local community.
The 2021-2022 Board is responsible for overseeing VYP programming, which includes identifying relevant content, impactful speakers, new event venues, and community partnerships.
Eric Bottolfsen, Vice President of GoldBook Financial, will serve as the 2021-2022 board chair, succeeding Andy Forsell, Assistant Vice President of Lockton Companies. T.J. Mitchell, Securities Attorney for Jennings Haug Cunningham L.L.P., will serve as vice chair.
"As referenced in all of the recent headlines – Phoenix is a top destination for business and moreover a fantastic place to live. Phoenix is thriving," said Eric Bottolfsen, VYP board chair. "As the Valley continues to attract more people and more investment, it is going to take business leaders willing to roll up their sleeves and tackle some of the big issues that we face. The VYP program and our members are going to be those future leaders someday."
The 15 young professionals serving on the 2021-2022 VYP Board are:
Sarah Amaral, Development and Special Events Senior Manager, Junior Achievement of Arizona
Eric Bottolfsen, Vice President, GoldBook Financial (VYP Board Chair)
Salvador Bretts, Managing Director of Business Development, BrightFi
Jill Foley, Founder & Managing Partner, Four Leaf Financial & Accounting
Andy Forsell, Assistant Vice President, Lockton Companies (VYP Board Immediate Past Chair)
Chad Guzman, Director, Government Relations, EPCOR
Shon Mack, Customer Service Analyst, Salt River Project
Nicole Matt, Senior Director, Marketing & Communications, OH Partners
T.J. Mitchell, Securities Attorney, Jennings Haug Cunningham L.L.P. (VYP Board Vice-Chair)
Lindsay Moellenberndt, Chief Business Development/Marketing Officer, Fennemore
Justin O'Connell, Account Manager, IT Recruiter & Business Development Specialist, VincentBenjamin
Stella O'Rourke, Corporate Development & Events Manager, UMOM New Day Centers
Kimberly Roland, Director of Entrepreneur Programs, Better Business Bureau
Zach Schira, Deputy Chief of Staff, District 3, Maricopa County
Amy Scoville-Weaver, Program Manager, Sustainability, Arizona State University
Now in its 11th year, the VYP Board of Directors manages a strong program to retain and attract young professionals to the Greater Phoenix area by connecting them to the community.
"The VYP program assists in developing critical leadership skills and business connections and creates change-makers in our region," said Todd Sanders, President and CEO of the Greater Phoenix Chamber. "We are proud to add strong leaders who will bring invaluable insights and positively impact the direction of the Chamber and how we support businesses."
The Board members will bring unique and diverse perspectives that will help carry out the VYP mission to build lasting relationships, establish professional development opportunities and act as a catalyst for change in the community.
For more information about the Valley Young Professionals, please contact Ashley Caronna at acaronna@phoenixchamber.com, or visit www.phoenixchamber.com/vyp
About the Greater Phoenix Chamber
Representing 2,400 businesses across the Greater Phoenix region, the Greater Phoenix Chamber promotes regional prosperity by serving as a catalyst for economic vitality and strong communities. The Chamber pursues this mission by collaborating with business, political and community leaders to grow the regional talent pool, create a regional approach to economic development and drive a pro-Arizona agenda.
FOLLOW ONLINE:
@phxchamber
facebook.com/phxchamber
Learn more:
www.phoenixchamber.com
info@phoenixchamber.com
602.495.2195