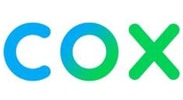 FOR IMMEDIATE RELEASE
October 1, 2021
Contact:
Andrea Katsenes
(602) 694-1275
[email protected]
113 Arizona nonprofits benefit from employee-funded grant distributions
PHOENIX —At a time when Arizona nonprofits report $91 million in revenue losses this year and an increase in expenses of $15+ million, the 3,100 employees of Cox Arizona today announce grant donations of nearly $500K to 113 Arizona nonprofit education, diversity and environment and sustainability programs.  This marks the 25th year that Cox employees, through Cox Charities, have raised funds to help the communities in which they live and work.  Since 1996, Cox Arizona employees have raised more than $9 million.
"Cox employees are unwavering in their commitment to nonprofits that serve our most vulnerable community members, especially youth, through education and diversity programs," says Percy Kirk, Senior Vice President and Region Manager for Cox Arizona.  "This year, with a great need in our community, Cox employees chose to expand the number of organizations receiving funding.  We know this additional support will help more Arizonans at this time."
One local grant recipient is Career Concepts for Youth.  For 30 years, its Stay in School and Achieve Program has served 64,000 middle school students in high crime areas.  The twice-per-month program focuses on interpersonal interaction, presentation skills, role-playing and writing.  "The Cox Charities grant will help us continue to influence vulnerable youth by showing them the importance of taking ownership and minimizing excuses while instilling in them the connection between academic success and becoming productive adult citizens," says Career Concepts for Youth Founder and President, Mario Bayne.
Another Cox Charities grant recipient is Homeless Youth Connection which works with homeless youth ages 13-21 in school districts to eliminate barriers so that homeless youth can stay in school and graduate.  "As a result of the pandemic and youth having to access education remotely, a number of homeless youth did not have the resources and were unable to engage in school.  Funding from Cox Charities will help Homeless Youth Connection identify these youth and ensure they have the resources to stay in school and complete their education," says Homeless Youth Connection CEO, Dawn Bogart.
92 Phoenix area nonprofits received grants from $1,100 to $10,000 totaling $416,750.00:
*Photo of Phoenix-area grantees courtesy of Cox, taken during the September 29 Zoom grant announcement.
Phoenix-Area Nonprofits receiving Cox Charities grants
A New Leaf
ACCEL
AGUILA Youth Leadership Institute, Inc.
Alice Cooper's Solid Rock Teen Centers
Amanda Hope Rainbow Angels
American Red Cross of Central and Northern Arizona
Anytown Leadership Program
Arizona Helping Hands
Arizona Museum of Natural History Foundation
Arizona Science Center
Arizona Sustainability Alliance
Arizona Technology Council Foundation DBA SciTech Institute
Assistance League of East Valley
ASU Gammage
Audubon Southwest
Back To School Clothing Drive
Banner Health Foundation
Be A Leader Foundation
Big Brothers Big Sisters of Central Arizona (BBBSAZ)
Boys & Girls Clubs of Greater Scottsdale
Boys & Girls Clubs of the Sun Corridor
Boys & Girls Clubs of the Valley (BGCAZ)
Career Concepts for Youth, Inc
Chandler Center for the Arts
Chicanos Por La Causa, Inc.
Children's Cancer Network
Civitan Foundation
College Bound AZ
College Success Arizona
Creighton Community Foundation, Inc.
Del E. Webb Center for the Performing Arts
Desert Botanical Garden
Earn to Learn
Elevate Phoenix
Foundation for Blind Children
Free Arts for Abused Children of Arizona
Fresh Start Women's Foundation
Furnishing Dignity
Future for KIDS
Gabriel's Angels
Girl Scouts—Arizona Cactus-Pine Council
GPV-CAT, Inc. dba PV Community Food Bank
HandsOn Greater Phoenix
Helen's Hope Chest
Helping Hands For Single Moms
Homeless Youth Connection
ICAN: Positive Programs for Youth
Jewish Family & Children's Service, Inc. (JFCS)
Junior Achievement Of Arizona, Inc.
Kids Need to Read
Kitchen on the Street
Liberty Wildlife
Make-A-Wish Foundation of Arizona
Maricopa County Historical Society d/b/a Desert Caballeros Western Museum
McDowell Sonoran Conservancy
Mesa Arts Center
notMYkid, Inc.
OdySea Aquarium Foundation
One Small Step | Clothes Cabin
Pawsitive Friendships
Peer Solutions
Phoenix Children's Hospital Foundation
Phoenix Film Foundation
Phoenix Indian Center
Phoenix Symphony Association
Read Better Be Better
SAE International d/b/a SAE Foundation
Save the Family Foundation of Arizona
School Connect
Scottsdale Cultural Council dba Scottsdale Arts
Shoebox Ministry Inc
Society of St. Vincent de Paul
SOUNDS Academy
Southern Arizona Association for the Visually Impaired
Southwest Autism Research & Resource Center
Special Olympics Arizona
Streetlight USA
The Salvation Army, A California Corporation
TigerMountain Foundation
Tonto Creek Camp
Treasures 4 Teachers
Trees Matter
UMOM New Day Centers, Inc.
United Service Organizations, Inc. (USO Arizona)
VALLE DEL SOL INC
Valley of the Sun YMCA
Waste Not
Wesley Community Center, Inc.
Will2Walk Foundation
Xico Inc.
Young Arts Arizona Ltd.
YWCA Metropolitan Phoenix
 21 Southern Arizona nonprofits received grants from $2,000 to $5,000 totaling $80,000 including: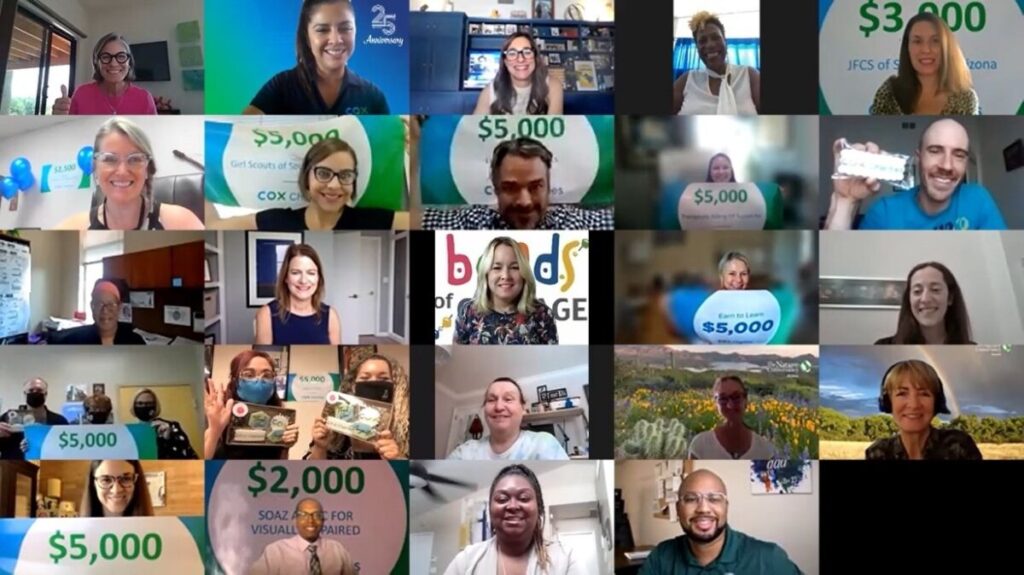 *Photo of Tucson-area grantees courtesy of Cox, taken during the September 29 Zoom grant announcement.
Southern Arizona Nonprofits receiving Cox Charities grants
Be Kind
Beads of Courage, Inc.
Boys and Girls Clubs of Sierra Vista
Boys and Girls Clubs of Tucson
Candlelighters Childhood Cancer Foundation of Southern Arizona
Earn to Learn
El Grupo Youth Cycling
Emerge Center Against Domestic Abuse
Girl Scouts of Southern Arizona
I Am You 360
JFCS of Southern Arizona
Literacy Connects
Museum of Contemporary Art Tucson
Not My Kid, Inc.
SARSEF (STEM)
SOAZ Association for Visually Impaired
STEP: Student Expedition Program
The Nature Conservancy in Arizona
Therapeutic Riding of Tucson, Inc.
Tucson Youth Music Center/The Symphony Women's Association
YMCA Summer Learning Camp
Total grant funds awarded in Phoenix and Southern Arizona: $496,750.00
About Cox Charities
Cox Charities is committed to building, strengthening and investing in Arizona's communities by raising and granting funds over and above the company's charitable contributions to support Arizona nonprofit organizations that share Cox's focus on youth and education. Since its inception, Cox Charities has awarded nearly $9 million to Arizona nonprofits that share Cox's commitment to our youth.
About Cox Communications
Cox Communications is committed to creating meaningful moments of human connection through broadband applications and services. The largest private telecom company in America, we proudly serve seven million homes and businesses across 18 states. In metro Phoenix, we serve approximately 2.5 million product subscribers, and in Southern Arizona, approximately 400,000 product subscribers, with residential and business digital television, 1G high-speed Internet, security systems and digital telephone service over its own nationwide IP network.  We're dedicated to empowering others to build a better future and celebrate diverse products, people, suppliers, communities and the characteristics that make each one unique.  The 3,100 Arizona employees of Cox are proud to have topped numerous J.D. Power and Associates' studies of customer satisfaction and for many years top "Ranking Arizona-Best of Arizona Business" list.  Cox Communications is the largest division of Cox Enterprises, a family-owned business founded in 1898 by Governor James M. Cox.
###