Kaitlynn Irvine is proud to join ElevateEdAZ as its Business Partnership Coordinator. Irvine holds a bachelor's degree in strategic communications with an emphasis in public relations from Northern Arizona University.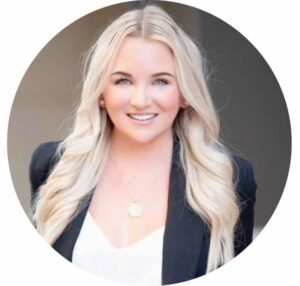 "I am proud to join the Foundation and contribute to strengthening our community with their mission. I look forward to working with businesses and students to expand the 21st-century workforce and hope to provide our community with endless opportunities." – Kailynn Irvine, ElevateEdAZ Business Partnership Coordinator
She previously worked as a Sales Associate with Ingram Micro in Scottsdale, Arizona. Before that, she served as the Director of Programs for the Greater Irvine Chamber in Irvine, California. As Director of Programs, she was responsible for 30% of the organization's income and oversaw event development and production from conception to day-of logistics through managing and developing client and supplier relationships, as well as carrying out operational and administrative functions. Prior to joining the Greater Irvine Chamber, she also served as the Communications and Events Specialist at the Orange County Business Council.
In her new role, Irvine is conducting outreach and organizing ways for our community's employers to pursue their workforce development and civic engagement objectives by engaging them in ElevateEdAZ. She onboards new businesses and volunteers, cultivates relationships and connects them into the appropriate schools and programs. Additionally, she works with employers to expand to more immersive work-based learning opportunities with high school students.
About ElevateEdAZ
The Foundation's education initiative, ElevateEdAZ prepares individuals for college and career through stronger alignment between education, business, and the community.
ElevateEdAZ is focused on increasing the number of students completing high-quality education to workforce learning pathways that align with the needs of industry. This includes working with education partners to support students in completing industry-recognized credentials, attaining early post-secondary credit, and participating in capstone work-based learning experiences, such as internships and pre-apprenticeships. In addition, ElevateEdAZ supports educator professional development by partnering to provide externship experiences for teachers and counselors.
Get Involved
Complete the ElevateEdAZ Business Partner Form to connect with staff from ElevateEdAZ to learn how you can get engaged! Our team will learn about your interests and priorities to ensure you get plugged into the area most important to you and your business!  Join our current business partners and influence students by becoming a guest speaker, serving on a Business Advisory Council, offering internships and job shadows, and much more!