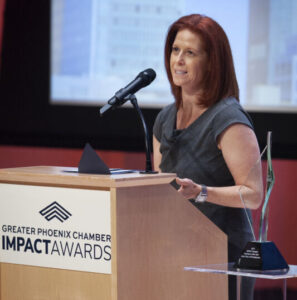 Boys & Girls Clubs of the Valley is laser-focused on creating equity and opportunity for thousands of K-12 youth in Greater Phoenix each year.
Helping our members build character through Club activities or earn a coveted internship through our AZYouthforce program is the ultimate reward for our work. Being recognized by the Greater Phoenix Chamber is an honored shared with our employees and volunteers who are making a positive, measurable difference.
Last year, during one of the most challenging times in our organization's 75-year history, Boys & Girls Clubs of the Valley received one of four IMPACT Awards from the Greater Phoenix Chamber of Commerce, along with the best overall award for an organization with 250 or more employees.
These prestigious awards were a shot in the arm for team members who have been tireless in their efforts to navigate COVID-19 and deliver critical services to families at a time when they needed them most. Recognition in the Community Champion category was especially meaningful because the honor is bestowed on an organization that adds value to Greater Phoenix.
At Boys & Girls Clubs of the Valley, our programs aren't just about having fun during those critical after school hours. Everything we do has a purpose to ensure our kids' academic, social and emotional success. It's all part of helping them reach their potential as productive, caring, responsible members of our community.
For years, we have watched the Chamber celebrate so many impressive companies and organizations doing yeoman's work in the Valley. To stand alongside community heavyweights like Honeywell Aerospace, Amazon and Waste Management of Arizona made the awards even more meaningful and our passion to give every young person the opportunity to succeed even greater.