MEDIA CONTACT:
Janelle Tassart
[email protected]
P: 602.495.6480
FOR IMMEDIATE RELEASE:
May 13, 2022
PHOENIX (May 13, 2022) – Concord General Contracting, Jennings, Strouss & Salmon, PLC and Blue Cross Blue Shield of Arizona have been named the small, mid-size and large Businesses of the Year by the Greater Phoenix Chamber during the Annual IMPACT Awards held Friday, May 13th. This year marks the 35th anniversary of the prestigious awards program.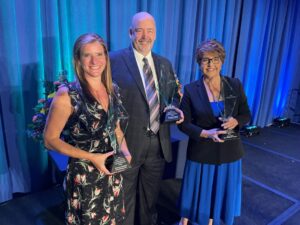 Small Business of the Year: Concord General Contracting, Inc.
"What an honor. Celebrating 50 years as an Arizona contractor, it's an amazing to be recognized for the hard work and dedication our employees give each day to build our great state," said Grenee Martacho, CEO, Principal in Charge for Concord General Contracting, Inc.
Concord General Contracting is a well-established firm that excels in the collaborative construction of commercial, municipal, educational, and non-profit projects throughout Arizona. For 50 years, Concord has partnered with clients to provide creative solutions to maximize return on construction investments. Being an employee stock ownership plan (ESOP) company, their team comprises employee owners who are personally vested in the success of clients' projects. Committed to the ultimate client experience, Concord realizes that construction is more than just a building – it's building an experience for the end-users throughout the entire process.
Mid-Size Business of the Year: Jennings, Strouss & Salmon, PLC
"We are extremely honored and proud to have won this award," said John C. Norling, Managing Attorney at Jennings, Strouss & Salmon, PLC. "We thank the Greater Phoenix Chamber for the process, and we are committed to continuing to make an impact in our great community."
Jennings, Strouss & Salmon, PLC ("Jennings Strouss") was founded in 1942 and is considered one of Arizona's premier law firms. Celebrating the Firm's 80th anniversary in 2022, they are among the oldest, largest, and most distinguished law firms in the state. Through offices in Phoenix, Peoria, and Tucson, Arizona and Washington D.C., the Firm employs 160 locally and 169 firm-wide. Jennings Strouss is deeply rooted in each of their locations' legal and business communities, and is especially instrumental in helping shape the dynamic growth of Arizona and many of its institutions.
Large Business of the Year: Blue Cross Blue Shield of Arizona
"We are so honored and humbled by this award today, especially being among the leaders, innovators, and people who clearly love Arizona," said Lori Turner, Chief Marketing Officer, Blue Cross Blue Shield of Arizona. "The employees at Blue Cross Blue Shield are really family and deserve this recognition. Every one of them wake-up every day to inspire health and make it easy for people."
Blue Cross Blue Shield of Arizona (BCBSAZ) is committed to helping Arizonans get healthier faster and stay healthier longer. With a mission to inspire health and make it easy, BCBSAZ offers health insurance and related services to more than 1.9 million customers. Through advanced clinical programs and community outreach, BCBSAZ is inspiring health in Arizona. BCBSAZ, a non-profit company, is an independent licensee of the Blue Cross Blue Shield Association. The company and its subsidiaries employ more than 2,500 people in its Phoenix, Flagstaff, and Tucson offices.
The three Business of the Year recipients were selected out of nine local finalist companies. The event honored all nine organizations and the accomplishments and the positive influences they have on the business community and economy.
"This is a milestone year for the IMPACT Awards program, and the honorees and recipients are among some of the most impressive to date. They embody innovation, business acumen, and community giving," said Greater Phoenix Chamber president and CEO Todd Sanders. "These organizations make an impact in our community every day and will continue to be stalwart leaders as our city moves forward as a national and global leader."
The 2022 IMPACT award finalists were:
Small Business
Amanda Hope Rainbow Angels
Concord General Contracting, Inc.
evolvedMD
Mid-size Business
Dircks Moving & Logistics
Jennings, Strouss & Salmon, PLC
K2 Electric
Large Business
Blue Cross Blue Shield of Arizona
Desert Financial Credit Union
Rocket Mortgage
###
About the Greater Phoenix Chamber
Representing 2,400 businesses across the Greater Phoenix region, the Greater Phoenix Chamber promotes regional prosperity by serving as a catalyst for economic vitality and strong communities. The Chamber pursues this mission by collaborating with business, political, and community leaders to grow the regional talent pool, create a regional approach to economic development and drive a pro-Arizona agenda.   
Follow online:
Learn more:
602.495.2195