Written by Karen D. Johnson, Ph.D., President & CEO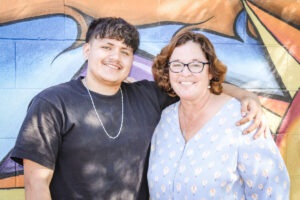 Research has shown that for young people who have experienced poverty and high levels of adversity, one of the most effective interventions is a 1:1 connection with a dedicated adult. At New Pathways for Youth, we believe every young person can live their life with joy and purpose, confident in their ability to decide their own path. Our program provides a personal development curriculum, tailored goal-setting, and connection to vital resources. All of this is complemented by support from an adult mentor within a group of peers to provide stable, nurturing, life-changing relationships. We are transforming the lives of youth by providing the support, stability, and skills they need to flourish in the community and in their families. Our holistic program is proven to generate remarkable outcomes for the youth we serve—from improved mental health and personal wellness to increased high school graduation rates and postgraduate attainment.
Our organization has been serving the Garfield neighborhood of Phoenix for more than 30 years. With our new facility on Jefferson and 9th Street, we are able to serve the entire downtown community, and we have expanded into the Maryvale neighborhood. We have exciting things on the horizon for 2023. This summer, we will be rolling out the new name of our youth program—Level Up by New Pathways for Youth. This new brand connects to the teens we serve while reflecting the ways our program helps them level up their communications, their relationships, their opportunities, and their futures. We will soon launch our NPFY Scholarship Program, which will provide necessary gap funding for our youth to continue their post-secondary education in vocational or trade schools, community college, or university. We are actively exploring more workforce development opportunities, so our youth can gain confidence and experience in professional settings while building out their toolkit for future employment.
Thanks to the long-term support of many individual, corporate, and foundation partners, we have developed a strong foundation for continued growth. We have invested in our professional team so they can connect with more youth and families in our community who could benefit from our services. We are recruiting more mentors who want to be part of the amazing work of transforming young people's lives. We are expanding our Caregiver's Circle to more families and guardians throughout the community. We are building partnerships with fellow youth-serving nonprofits and expanding our advocacy efforts. Our goal is to grow our program over the next several years to reach 500 or more young people throughout Phoenix.
Working with teens who have their whole future ahead of them is incredibly rewarding. We have the privilege of seeing the light in their eyes when they realize they can do great things—that their past will not prevent them from pursuing their dreams. Our work can be challenging, and sometimes we face obstacles, but the successes—both incremental and life-changing—along the way, make it all worthwhile.