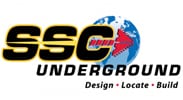 SSC Underground provides trenchless technology, Subsurface Utility Engineering, and underground construction services to Engineering firms, General contractors, State and city governments, Pipeline companies, and Utility agencies.
SSC Underground pulls from nearly 50 years of experience working in Arizona soils and owns a large fleet of equipment that allows them to work on several different projects in parallel. Utilizing their unique expertise when bidding, contracting, and defining constructability requirements and methods for underground construction projects, SSC Underground is able to stay a step ahead of the competitors.
Although SSC Underground is quite successful, they are most proud of their humble beginnings as a family owned and operated company. They have grown with the valley over the last 50 years, and have been a part of major infrastructure projects throughout Phoenix including many of the new large freeways, dams/pipelines, business parks, entertainment venues, and Utility stations.
Learn how SSC Underground is connecting the valley, Literally. Click here!