Whether your animal companion is a dog, cat, bird or something of the aquatic variety,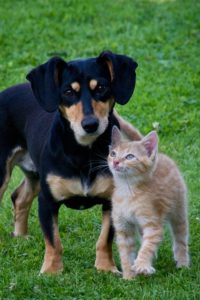 there's no doubt they're appreciating the longer days, warmer temperatures and clear skies that accompany May as National Pet Month.
The Greater Phoenix Chamber of Commerce loves pets and so do our members! Our pet-friendly companies top the list on places to visit this month.
PetSmart brings variety to Pet Month with a wide variety of services, including pet training, grooming and adoptions. The store also offers a wide variety of pet options including dogs and cats available at weekly adoption events and birds, fish, reptiles and rodents for sale.
From special royalty grooming treatments to pet sitting and dog walking, Puff & Fluff grooming and pet sitting pampers pets year-round in every way.
Family-owned and operated, Great Western Pet Supply brought its 50-year pet-industry experience from Buffalo, N.Y. to Phoenix and expanded into manufacturing its own line of pet products.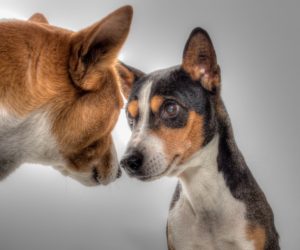 One of dogs' favorite pastimes is eating, and Earthblend Super Premium Dog Food ensures that the food pet owners are feeding their dogs is nutritious and meaty – exactly what a good pet deserves.
With three retail outlets across the Valley, Puppies 'n Love supplies Phoenix with a broad selection of happy, healthy and playful puppies from reputable breeders. Families are invited to attend a weekly "puppy party" to meet the store's newest friendly, furry faces.
Animal Kingdom's two locations provide puppies as well as all the supplies and accessories to welcome home a new pet. The store works proudly with each family in search of a puppy to find the best-suited breed and temperament.
The most trendy breeds of puppies and rescue dogs looking for forever homes come together at Trendy Pet & Rescue, a pet store in Scottsdale providing space to local shelters for adopting out rescue dogs.
While you're at any of these places playing with puppies, treat your new pets/friends to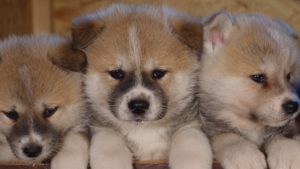 Amigo's Kitchen gourmet dog treats: human-grade treats with varied ingredients baked into fun shapes.
For those whose prefer pets with fins instead of fur, The Ocean Floor is stocked with fish to expand any aquarium and supplies for them to flourish.
However you choose to celebrate National Pet Month, you and your pets will be welcomed and well cared for by the Chamber's many pet-focused members.