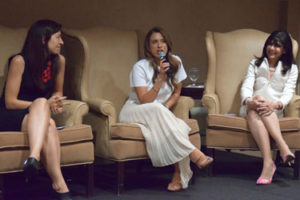 An ATHENA is a businesswoman who demonstrates inspiring leadership within her industry, mentors women throughout her career and dedicates herself to the community.
During June's Professional Women's Alliance luncheon, 2016 ATHENA Award recipients Catherine Alonzo, founder & CEO at Javelina, Rebecca Clyde, co-founder & CXO at Ideas Collide and Dr. Maria Harper-Marinick, chancellor at Maricopa Community College District, shared insight into what it means to be an ATHENA and tips on implementing ATHENA ideals in their lives.
As a leader, Alonzo works to create other leaders by mentoring them to a point where they see themselves in leadership roles. She says our community can achieve much more if we have strong leaders.
"The greatest gift my mentor gave me was seeing leadership in me before I saw it in myself," Alonzo said.
Clyde believes having a mentor is critical to being successful. Often times, mentors offer new perspectives and share valuable advice and insights.
"Some of the best answers and advice comes from the outside," Clyde said. "We are too close to our own dilemmas and sometimes need an outside perspective."
Clyde says a mentor-mentee relationship can be both formal and informal, which results in more organic interactions. When serving as a mentor, Clyde works to bring out the best in her mentees, including determining whether they are ready to receive her advice and guidance.
"As a mentor, I need to have the sense that my mentee is ready to receive my help," Clyde said.
Clyde encourages everyone to go into a mentor relationship ready to receive and learn because that wisdom will eventually be passed on to others.
As a woman who serves on many boards and is active in her community, Marinick says determining when to say no is a constant struggle. Marinick adds being selective in what you agree to is very important to prevent burn out and to ensure you are fully present in your commitments.
"If I do something, I bring all of me," Marinick said. "I had to learn to say no so I was fully present in other areas."
Marinick adds she is grateful for her life and her ability to give back to her community.
"I live a life of gratitude," Marinick said. "It would be unethical of me to not give my time and share my talents."
To nominate a leader, mentor or servicewoman in your community for the 30th Anniversary ATHENA Awards, CLICK HERE.
Many professionals find themselves in a daily struggle with the thought of 'having it all' — a great career, a happy healthy life and perhaps even some semblance of life balance.  Attend the Professional Women's Alliance luncheon on Tuesday, July 11 to hear Jodi Low, inspirational speaker, corporate trainer and CEO of U & Improved, discuss how to identify the blocks in both your business and personal life and get the tools you need to achieve the success you desire.REGISTER TODAY!
-Written by Danny Imes, digital marketing coordinator, Greater Phoenix Chamber of Commerce. займ без отказа
онлайн займы нужен займзайм главфинансзайм на счет онлайн какие банки дают займ под материнский капиталзайм 911 личный кабинетзайм под залог материнского капитала