Being an effective female leader in a male dominated industry can be a challenge, but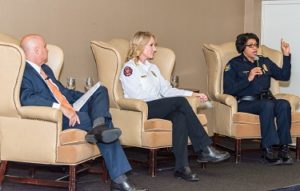 City of Phoenix Police Chief Jeri Williams and Fire Chief Kara Kalkbrenner make it look easy.
During October's Professional Women's Alliance luncheon, Williams and Kalkbrenner shared what it's like to be the first women to lead Phoenix's police and fire departments.
While discussing their leadership style, the dynamic duo, who grew in their careers together, both agreed it's a mix of taking charge and collaboration, and more importantly knowing what type of leadership is needed for a given situation.
"People can lose their lives," said Kalkbrenner. "I am blunt when I have to be because in this business there is zero room for error."
When it comes to planning though, Kalkbrenner said she values a collaborative setting where her team challenges her thinking and vice versa.
Similar to Kalkbrenner, Williams leans on her team.
"I am a consensus based decision maker," said Williams. "I want to include the ones who will be impacted the most by the decisions my department makes."
Even though Williams likes to lead by consensus, she knows that there are instances when she must be the one calling the shots. While on stage, she highlighted what she expects of her team.
"I am very black and white when it comes to service to the public," said Williams. "I will not tolerate bad service from my team, and I put that same expectation on myself."
Shifting focus from leadership to career, Todd Sanders, CEO and President of the Greater Phoenix Chamber of Commerce, asked the Chiefs to talk about what advice they would give to others choosing to forge a non-traditional path.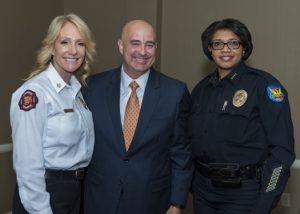 In response Williams and Kalkbrenner acknowledged that their journey from on-the-ground public servant to leading a department in the nation's fifth largest city wasn't easy.
Kalkbrenner said being a lifelong learner and working hard at her craft helped her to grow personally and professionally. Her key piece of advice focused on encouraging people to challenge themselves.
"When you get comfortable doing something, it's time to make a change," said Kalkbrenner.
For her part, Williams challenged attendees to do one thing.
"I challenge everyone to say one positive affirmation about themselves each day," said Williams. "There is too much negativity in the world, so we need more positivity."
The next Professional Women's Alliance features Dr. Christine Kajikawa Wilkinson of ASU Alumni Association on Thursday, Nov. 2. Dr. Wilkinson will discuss her leadership techniques to foster innovation in the workplace and how she leverages her skills to give back to the community. Register today!
-Written by Danny Imes, digital marketing coordinator, Greater Phoenix Chamber of Commerce.