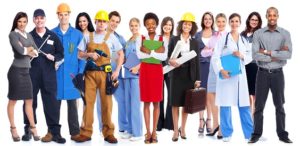 Through the Chamber's economic development program, Phoenix Forward and extensive business outreach visits with key partners, it became evident that many local business experience the same challenge — a lack of qualified talent to fill current openings.
In fact, 49 percent of employers are unable to fill open positions, with approximately 50 percent of companies expressing that they can't take on new business as a result. Despite these figures, approximately 50 percent of college graduates are unemployed or underemployed.
Today, there are 6.1 million vacant jobs across the country. It's clear that there's a need for a better solution to prepare students and retain employees for life-long careers with growth and earning potential. Filling this need is one of the main goals of the Greater Phoenix Chamber Foundation (GPCF).
Bringing business to the table
With extensive business outreach, GPCF identified a skills gap in several vital Arizona industries. Over the past 18 months, GPCF launched five Workforce Collaboratives to address the needs of key industries: compliance & risk management, financial services, health care, construction and cybersecurity.
The GPCF Workforce Collaboratives are business led councils that better connect industry and education to close the skills gap. Business leaders are working together to identify their key pain points and connecting with education providers and workforce development organizations to ensure they are providing the best possible talent. The goal is to have high-level, productive dialogue that directly translates to solutions for business, and education.
Defining TPM
Designed by the U.S. Chamber of Commerce Foundation in 2014, Talent Pipeline Management (TPM) emphasizes a supply chain management model to close the skills gap. The goal of TPM is to put industry in the driver's seat, creating an employer-led approach to workforce development and student training programs.
As a part of the workforce collaboratives, GPCF is partnering with the U.S. Chamber to utilize Talent Pipeline Management (TPM) strategies to better understand the needs of employers and employee training programs. The Cybersecurity Workforce Collaborative is utilizing TPM to better understand the supply and demand of the cybersecurity workforce pipeline, and better align employer incentives to increase positive outcomes. In conjunction with these efforts, GPCF launched AZCyberTalent.com to provide a platform for employers, employees, educators and students to connect.
Interested in the learning more about GPCF or the Workforce Collaboratives? Contact Katelyn Harris-Lange, Workforce Development Program Coordinator, at klange@phoenixchamber.com заём
hairy girl онлайн займ на карту 30000займ на visaзайм экспресс златоуст займ на карту мгновенно на длительный срокзайм крупной суммыпервый онлайн займ без процентов взять срочный займ на картуbanando займмоментальный займ онлайн на карту