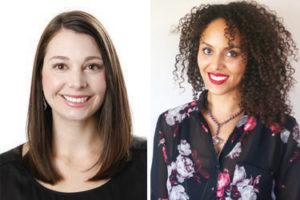 To many, a new year brings resolutions of healthier habits that run the gamut, but it can also be a time of opportunity as we look to the year ahead. For the Valley Young Professional board, a new year brings new leaders with new thoughts, ideas, and a vision for the future. Natural-born leaders Ashley LaRae Sampson and Erin Miller sat down to share how they are making the Chamber a space for young professionals, leadership in the Valley and moving Phoenix Forward
Why did you choose to run for VYP Leadership?
Erin Miller, VYP chair:
After being involved with VYP for more than five years, I knew it was the right time to get involved at a deeper level. I looked up to the VYP Board chairs before me, and I learned something special from each of them. I knew I could bring a new style and skills to the board, and I have been excited to take this journey with such a talented group of individuals.
Ashley LaRae Sampson, VYP vice chair:
I recognize a need for young professionals to have opportunities to connect, so helping lead the way in those initiatives seemed like the next productive step.
What makes you excited about leading the VYP Board?
Miller:
I love leading the VYP Board because our programming sets this organization apart from every other networking or young professional organization in the region. VYP brings in the knowledgeable speakers and behind-the-scenes tours that really offer valuable lessons for attendees.
Sampson:
I'm always excited to see new faces and personalities in leadership. The more people see someone they can relate to, the easier it is for them to imagine themselves there too, so I'm looking forward to building more relationships with like-minded people who relate to me.
What inspires you to take a leadership position outside of your normal work responsibilities?
Miller:
I love getting involved in organizations outside of my "day job" because it gives me a more well-rounded view of my industry and community. Since I had kids, I have had to cut back on the amount of organizations that I stay involved with, but VYP has always been a priority because I see it as a huge benefit for my career.
Sampson:
I'm a firm believer in "be the change you wish to see" so when I notice an area where I can naturally fill in for the good, I feel it's my responsibility to step into it.
What is one thing you like about Phoenix?
Miller:
Just one thing? I am a Phoenix native, so the Valley will always be my home. I love that we have all of the perks of a big city (i.e. museums, major sports teams, concerts, festivals), yet we still have open spaces to enjoy nature and great neighborhoods that give you a close-knit feeling of community.
Sampson:
I think Phoenix is the most peaceful huge city in the United States. Somehow we're surrounded by nature and ease in the midst of our concrete jungle, and I love that.
As a Young Professional, looking ahead at the future of Phoenix, what would you like to see?
Miller:
I would love to see Arizona attract more major companies. In other metropolitan regions there are phenomenal growth possibilities because of the deep roster of corporate headquarters and the career advancement opportunities they bring. In order to attract and keep top talent, the Phoenix area needs to be seen as a region where people can find multiple fulfilling and successful opportunities.
Sampson:
I'm hoping Phoenix will become a more connected and all-embracing city. Everything seems to be in pockets, but I'd like to see groups unite to create long-lasting, powerful connections.
What is your favorite time of year in Phoenix and why?
Miller:
I love spring–the weather is beautiful and there are so many fun things to do outside like hiking or attending a Spring Training game.
Sampson:
Fall, that's boots and layering season! I wait for November like others wait for Spring.
What makes our mission meaningful to you? – "The Valley Young Professionals provides experiences for its members to build lasting relationships, engage in professional development opportunities, and become change-makers in the community."
Miller:
I think the final statement of this message is the most meaningful to me. VYP goes above and beyond networking–it is about changing our community for the better. I grew up in Phoenix and have always loved living here, but I want to ensure that I am doing everything I can to make Phoenix even better for my children.
Sampson:
I was always taught that my relationships will open doors to opportunities, so I truly believe that our mission is important for our community. Without the right relationships to push us toward positive change, it's easy to become stagnant, which is a career killer for young professionals.
What has been your favorite VYP event?
Miller:
My favorite annual event is our VYP mentorship breakfast held every November. The small conversations with Chamber Board members foster real opportunities for connection and growth.
Sampson:
The last Diamondbacks game VYP attended (against the Dodgers) is my all-time favorite so far. I was able to facilitate a dialogue with CEO/President Derrick Hall and he blew me away.
Favorite place to eat in Phoenix?
Miller:
I love Chino Bandido in North Phoenix. It is a blend of Asian and Mexican cuisine and the jade red chicken is AMAZING. Order a 7 and a 7Q–you'll thank me later.
Sampson:
Just give me great tacos, and I don't care if we're in a hole-in-the-wall or a five-star resort.
Favorite Arizona sports team?
Miller:
I am a proud Sun Devil grad, so I have a soft spot for all of the ASU teams. I try to make it to at least one ASU football game each season. As for professional sports, the team I follow most closely is the Cardinals.
Sampson:
Phoenix Mercury (WNBA).
Favorite travel spot?
Miller:
I could never choose just one favorite travel spot, but I recently traveled to Washington D.C. and had an amazing time.
Sampson:
Anywhere with family, even if it's just my grandma's house.