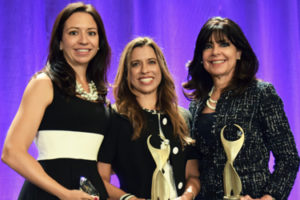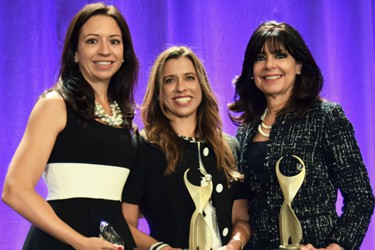 Arizona has long been a place where women could break barriers and serve as pioneering leaders at all levels in the community.
For 30 years, the Greater Phoenix Chamber of Commerce has recognized the profound impact of female leaders in Phoenix. Women, including the 50 ATHENAs honored during the past three decades, shape Phoenix every day through their work in industry and in the community.
"All the ATHENA women, I'm so impressed and inspired by you," said 2017 ATHENA Young Professional Recipient and General Manager of the Southwest Region of Lyft, Drena Kusari Berisha. "I'm uplifted by the great work you're doing in the Valley and beyond."
By forging a path for themselves, and others, women—like all of the ATHENA recipients—have built an innovative city and greatly contributed to keeping Phoenix united as a community focused on growth, strategic development and a quality of life that is inclusive of all people.
One woman working toward this goal is the 2017 ATHENA Public Sector Recipient, Michelle Just. Just, the CEO & President of Beatitudes Campus, shared her heart and her purpose with 700 people at the ATHENA Awards.
"It is a pleasure to serve," said Just. "Together we are definitely making a difference in how Phoenix sees aging, and what it means to grow old in this city,"
Women, like Berisha and Just, play a vital role in moving Phoenix forward. Women lead in so many ways, all of which help to make the community stronger.
Mi-Ai Parrish, the 2017 ATHENA Private Sector Recipient, accepted her award by defining ATHENA and spoke to the importance of women in business.
"The Athena Award made me think about Athena and how she so aptly represents one of the most powerful things about women," said Parrish. "She was the goddess of war and of wisdom. A contradiction that is meaningful and powerful and feminine."
In her acceptance speech Parrish, the President of Republic Media, alluded to how those contradictions are what make women economic powerhouses.
"We are told so many times in the course of our days, of our weeks, of our lives, that we can't be these things at once. If you have to do tough things, you can't do them in a kind way. If you want to move up, you can't help those next to you," said Parrish. "I'm here to say that's not true. And that's my secret for you. That's our power. That's our magic."
It is through the hard work and dedication of women that Phoenix has flourished. From female-led companies and to groundbreaking women who have conquered challenges in business and government, it is women in business and in the community who are moving Phoenix forward.
-Written by Miranda Cain-Morton, Community Relations Manager