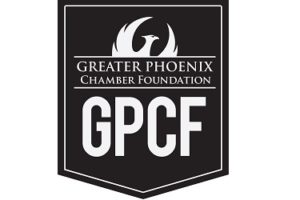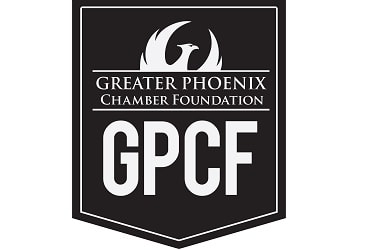 MEDIA CONTACT:
Janelle Tassart
C: 480.215.2149 | O: 602.495.6480
FOR IMMEDIATE RELEASE:
Dec. 11, 2017
PHOENIX – The Greater Phoenix Chamber Foundation (GPCF) in partnership with the City of Phoenix ARIZONA@WORK office is expanding the Series 7 training model for a new group of qualified candidates. This job-readiness program will prepare individuals to pass the Series 7 License exam, a requirement for many financial services careers, including financial services advisors and analysts.
Careers in financial services are rapidly expanding in Arizona, and companies are looking to find qualified talent.  Through this program, individuals can now prepare for the series 7 exam through an eight-week online course. Participating companies will host a series of mixers throughout the training to provide insight into the culture of their organization and the types of financial services positions they have available.  This program is free of charge to qualified candidates.
"Through collaboration with multiple financial services companies and a partnership with the City of Phoenix Arizona@Work office, we have designed a program that provides an opportunity for individuals to prepare for and test their ability to sit for the exam without having to quit their current job" said Todd Sanders, President and CEO of the Greater Phoenix Chamber of Commerce.
"With the growing number of financial services opportunities in the Greater Phoenix region, this program is preparing these individuals for a life-long career," Sanders added.
The pilot program launched in October of 2017 and included 14 individuals that received free training and direct connections to five employers. These individuals will be interviewed in the coming weeks, following completion of their training.
"I have been a citizen of Phoenix for 17 years and have been around the block for quite some time. I hadn't thought it would be possible that the city of Phoenix could give an unemployed citizen an opportunity to take a series 7 training and meet employers in the hiring process," said Elie Mamboleo, a participant in the first Series 7 training cohort. "This is happening to me, and I am certain my peers feel the same way. I thought I was at a dead end, and I'll proudly tell you, this was a miracle for me."
Mamboleo had interviews with three financial services investment firms scheduled even before completion of the course.
"Financial services careers in Phoenix are job opportunities that are going to continue to increase significantly," said Christine Mackay, director, Phoenix Community and Economic Development. "BBC America says that within three years, Phoenix will have more financial services workers than Wall Street. Financial service jobs can be career ladders leading to personal job advancement."
GPCF and ARIZONA@WORK will launch a second cohort in 2018. It will run February 5 through March 30, 2018. Participants will receive an eight-week training, tutoring, study sessions and exclusive access to employer-hosted mixers. Employers from the first cohort have renewed their commitment to the program.
"Schwab is constantly seeking people who share our desire to serve investors with passion and integrity," said Phillip Huhta, managing director for client service and support, in Charles Schwab's Phoenix office. "We are pleased to participate in a program designed to help people pass a challenging exam and overcome a barrier to entry to such a rewarding career as a financial professional."
Motivated people ready to maximize their potential are invited to join us on Jan. 9 or Jan. 10 to learn about preparing to successfully pass the Series 7 the first time and to explore if they qualify for tuition funding.
Participating employers:
| | |
| --- | --- |
| Charles Schwab | Merrill Edge |
| North Star Resource Group | USAA |
| Vanguard | |
WHAT: Series 7 Pilot Cohort 2 Open Houses
WHEN/WHERE:
City of Phoenix Business & Workforce Development Center
301 N 1st Ave., 6th Floor, Phoenix, AZ 85003
Tuesday, Jan. 9
6 p.m. – 7:30 p.m.
REGISTER
OR
Wednesday, Jan. 10
9:00-10:30 a.m.
REGISTER
###
About the Greater Phoenix Chamber Foundation
Launched in 2016, the Greater Phoenix Chamber Foundation carries out charitable and education objectives by conducting research, forming partnerships and hosting events focused on education, workforce development, wellness and community development.
About the Greater Phoenix Chamber of Commerce
Representing 2,400 businesses across the Greater Phoenix region, the Greater Phoenix Chamber of Commerce promotes regional prosperity by serving as a catalyst for economic vitality and strong communities. The Chamber pursues this mission by collaborating with business, political and community leaders to grow the regional talent pool, create a regional approach to economic development and drive a pro-Arizona agenda.