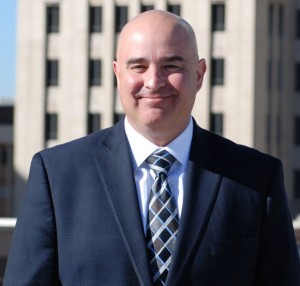 On Monday, the Arizona legislature commenced with the Second Regular Session of the 53rd Legislature and Governor Doug Ducey provided his state of the state address. I was encouraged by the Governor's focus on investing in our state and ensuring that we continue to foster a climate where businesses thrive. I believe that we have the opportunity—during this legislative session and every legislative session—to create and support policies that help your business and our community prosper.
In 2017, the Greater Phoenix Chamber of Commerce (GPCC) advocated for the business community at every level of government. Through this advocacy, we successfully supported legislation that protected businesses from losing thousands of dollars in frivolous lawsuits during the last Legislative session. We also safeguarded the integrity and accuracy of the statewide initiative process and supported expanding economic development and investment through targeted tax policy.
In 2018, our priorities advocate for pro-growth policies that strategically advance our entire economy, while supporting innovation and investment that fosters thriving communities.
These priorities include continued advocacy for a structurally balanced budget, providing clarity on the taxation of digital goods and services and investments in our workforce and talent pipeline.
Structurally balanced state budget
A structurally balanced budget that funds vital state services, including education and infrastructure, is necessary if we want our state to maintain fiscal responsibility. It provides opportunities for investments that support innovators and pro-growth tax reductions. The state budget should continue to promote job creation in our communities and support strategic investments.
Tax code clarity
In order to ensure that businesses can plan and fully comply with regulations, GPCC has been working with the business community and lawmakers to modernize our tax code as it applies to digital goods and services. We know that businesses owners need clarity within the tax code, and we are advocating for that so businesses in the technology sector can grow while operating on sure legal footing.
Investing in human capital
Last year, we successfully supported efforts that prioritized workforce development and our state's K-12 and university systems. This year, we will continue to fight for investment for the business community's greatest need: a robust, diverse workforce and talent pipeline that supports all industries. Earlier this week, I attended Governor Ducey's press conference and am pleased to know that he is committed to strategically investing in Arizona's education future by restoring much needed funding that can be used for capital costs or other needs.
We know that one of the biggest hurdles for business growth is finding qualified talent. We believe that through investment and partnership between business and education, we can bridge the skills gap. Ultimately, this will mean net new high quality jobs, business expansion and continued economic prosperity for the State of Arizona.
This legislative session, we will support policies that move Phoenix and Arizona forward and oppose legislation that hinders business growth. GPCC is committed to combating any unnecessary, burdensome regulations that limit innovation.
As always, we will be the voice for business. We advocate for you and for your growth. We will be there to urge lawmakers to move our economy forward.