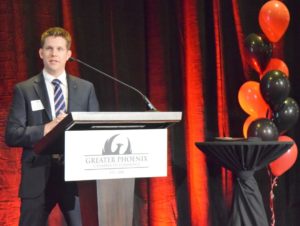 The Greater Phoenix Chamber of Commerce (GPCC) announced the 2018 IMPACT Awards finalists at the IMPACT Awards Nominee Reception on February 21.
Since 1987, the Greater Phoenix Chamber of Commerce (GPCC) has honored the accomplishments of businesses and the impact they make on the Greater Phoenix business community. GPCC looks for companies with a strong footprint in the Valley that deserve special recognition.
Two businesses—one with 250 employees or fewer and one with more than 250 employees—will be honored in four categories (Arizona Advocate, Community Champion, Economic Driver and Exceptional Innovator). An IMPACT Business of the Year Recipient is selected from the category recipients in both business sectors.
Meet the companies that have been named a 2018 IMPACT Awards finalist.
More than 250 employees:
250 employees or fewer:
IMPACTful Nonprofit:
The IMPACTful Nonprofit Award is an award category in the Chamber's annual IMPACT Awards. This award recognizes the value of nonprofits in the Valley, while also taking into consideration the unique situation, scope and abilities of a nonprofit organization. Interested in determine the recipient for the IMPACTful Nonprofit Award? Vote here.
срочный займ на карту получить займ на qiwi онлайнзайм экспресс ухтаонлайн займ на неименную карту займ москва срочнозайм на карту без отказа срочнозайм в банке займ наличными по паспортувзять займ спбзайм в интернете на карту