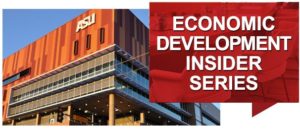 Last week, the Greater Phoenix Chamber of Commerce (GPCC) launched the Economic Development Insider Series.  This bimonthly, hour-long program features exclusive, insider information about the hottest economic and workforce development trends in Greater Phoenix.
At the inaugural presentation, Rick Naimark, Associate Vice President for Program Development Planning at Arizona State University (ASU), spoke to attendees. During his remarks, Naimark focused on ASU's planned growth in downtown Phoenix and beyond.
"We're all over downtown," said Naimark when discussing ASU's presence in the heart of the city center and planned growth.
In the last decade, similar to downtown Phoenix, ASU has transformed. With a focus on innovation and research, ASU has become an economic driver for Phoenix's growth.
"Our research isn't just for research sake, we want our research to be valuable to society," said Naimark. According to Naimark, approximately 100 companies have launched thanks to ASU's research. This has attracted more than $600 million in external investment to the region.
As ASU continues to grow their research portfolio, the university also has plans to expand its footprint in the city's urban center.
Last month, ASU announced that the Thunderbird School of Global Management would move from Glendale to downtown Phoenix. Naimark said that this move will occur sometime before 2019. He also discussed that long-term, ASU plans to build—through fundraising and collaboration with other entities—the internationally renowned school its own building in the downtown campus.
Beyond the relocation of Thunderbird, ASU is also planning to redevelop several acres in downtown to create a space for industry, education and community to come together and connect.
"We want to create an innovation district [in the area]," said Naimark.
Naimark added that the continued expansion in downtown Phoenix will support the university's colleges, increased research goals and the university's goal to launch 200 startups by 2025.
Interested in learning more about ASU's downtown expansion plans? Click here.
-Written by Miranda Cain-Morton, development and communications manager займ на карту
микрозаймы онлайн займ на киви всемвзять займ 100000вивус повторный займ бесплатный займвзять займ на годвэб займ деньги срочно займзайм на социальную карту сбербанказайм под залог птс новосибирск