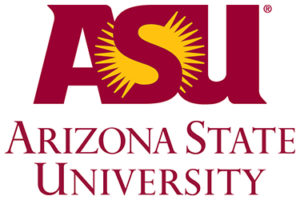 Nearly 14 years ago, Arizona State University President, Dr. Michael Crow, made a bold move. He announced plans for ASU's new downtown Phoenix campus. Two years after this announcement, more than 2,700 students called downtown Phoenix home. In 2017, nearly 12,000 students have flocked to ASU's downtown campus, which houses some of the university's best-known colleges including the Walter Cronkite School of Journalism and Mass Communication and the Sandra Day O'Connor College of Law.
Growing a campus and community:
2004: In April, Dr. Crow announced the downtown Phoenix ASU campus.2005: In June, the City of Phoenix and ASU signed an agreement to develop the campus. In November, City of Phoenix council members voted to place a bond initiative on a ballot to provide $223 million to fund the endeavor.
2006: In March, the $223 million bond is approved. In August, the campus opens. The first students to live downtown were housed in a refurbished Ramada Inn for two years.
2007: In February, ASU broke ground on the new campus building which would later house the Walter Cronkite School of Journalism and Mass Communication.
2008: In August, Taylor Place the first downtown student housing opens. In that same month, the Cronkite School opens, showcasing more than 220,000 square feet of learning space for students. In December, Valley Metro Light Rail opens and connects the downtown Phoenix campus to ASU's campus in Tempe.
2009: In August, the School of Criminology and Criminal Justice and the School of Social Work moved to the downtown campus. In November, ASU opens a second new building for the College of Nursing and Health Innovation.
2010: In August, a new threshold is met. With 8,000 students at the downtown campus, ASU continues to grow.
2012: In August, ASU opens the new College of Health Solutions.
2013: In August, the downtown campus officially celebrates being home to 10,000 students. In October, ASU opens the Sun Devil Fitness Center, which consists of more than 73,000 square feet of space for students.
2014: In January, ASU moved Graduate arts programs to Grant Street in the Warehouse District of downtown Phoenix. In July, ASU began construction for the Arizona Center for Law and Society.
2016: In July, the Arizona Center for Law and Society officially opened. This was a $129 million project that added another 260,000 square feet to the downtown campus.
2018: In January, Dr. Michael Crow announced the ASU's Thunderbird School of Global Management would be moving to the downtown Phoenix campus.
–Written by Miranda Cain-Morton, development and communications manager
Data from Rounds Consulting Group