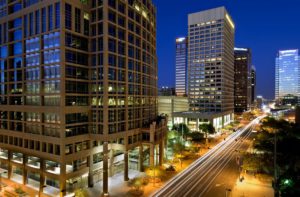 Over the past decade, downtown Phoenix has completely transformed. The urban core has transitioned from a purely business downtown to a vibrant, urban cultural center filled with established businesses, start-up companies, students, arts and entertainment facilities, restaurants, and top-rated destinations for locals and tourists.
What's behind this transformation? Education and transit are two driving components of this growth. From the introduction of Arizona State University (ASU) to downtown Phoenix to the increasing presence of all three public universities on the Phoenix Biomedical Campus (PBC), the presence of dynamic education institutions and thousands of students have given downtown Phoenix renewed vibrancy. Light rail has also sparked downtown revitalization connecting downtown Phoenix to Phoenix Sky Harbor International Airport, Tempe and Mesa.
Take a look how far downtown Phoenix has come in the past decade, and what makes it the best place for business growth.
Since 2004, companies have invested $5.03 billion in redeveloping a 1.7 square mile area in the heart of downtown Phoenix.1
Approximately 9,000 people call the heart of downtown Phoenix home thanks to the redevelopment and increased residential options in the 1.7 square mile area. 1
Since 2000, approximately 6,000 housing units have been built in the area. 1
In the past ten years, more than 4,000 apartment units have been built in the area. There are currently more than 2,000 additional apartment units under construction. 2
Between the fourth quarter of 2017 and the first quarter of 2019, the warehouse district will have seen more than 250,000 square feet restored and used for business, entertainment and creative uses. 1
In the nine-year period between 2006 and 2015 employment grew by 9 percent in the area. 2
More than 195,000 people work in a 3-mile radius of downtown Phoenix. 1
Technology companies in downtown Phoenix have increased by 318 percent since 2012. 2
Between 2012 and 2017, the number of technology companies increased from 67 companies to 281 companies. 2
Between 2012 and 2017, the number of people employed by technology and technology-related companies increased from 1,800 to 7,000. 2

GPCC member highlights:

Uber employs more than 1,000 people at the Collier Center. 2
WebPT employs more than 300 people in the warehouse district. 2
Equality Health employees more than 80 people. 2  
1. Data from Downtown Phoenix Inc.
2. Date from Rounds Consulting Group
Interested in seeing how downtown Phoenix has grown? Check out this in-depth piece from Downtown Phoenix Inc.
–Written by Miranda Cain-Morton, development and communications manager