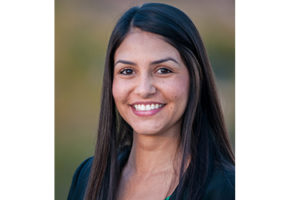 The Greater Phoenix Chamber of Commerce's (GPCC) Valley Young Professionals' Board of Directors welcomed six new members to the Board. Each new member was selected based on their past involvement in VYP and the vision that they bring to the Board.
This month, get to know Lorna Romero, VP of communications & advocacy with Molera Alvarez.  Over the past nine years, Romero has developed her professional career within the political and policy community in Arizona. She is passionate about giving back to her community and spends much of her time making sure our next generation of leaders thrive.
Question: What are you hoping to gain from your experience a new VYP Board member?
Answer: I am very excited to join such a distinguished group of young professionals. I am looking forward to meeting talented leaders in our state, expanding my skillset and sharing my professional experiences with others.
Question: What opportunities do you see in the future for young professionals in the Valley?
Answer: As the largest segment of the workforce, I believe young professionals have an incredible opportunity to create a culture within Arizona focused on community, innovation and a deep appreciation for the wonderful state we call home.
Romero is excited about the opportunity to come on the Valley Young Professionals Board. Passionate about helping others grow and reach their full potential, Romero acknowledges that the VYP board does just that.
"I thoroughly enjoy working with energetic and motivated people," Romero said. "Each board member is passionate about what they do, eager to meet new people and willing to serve as a resource to others."