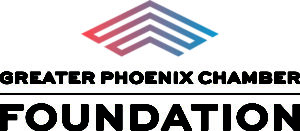 In Arizona, there are more than 10,000 vacant construction positions. The struggle to find qualified employees has real economic consequences for not only construction firms, but for customers and vendors as well. Talent gaps delay construction projects, meaning slower economic growth for Arizona.
If the Valley is expected to continue to flourish, the business community, education institutions and others need to work together to encourage individuals to launch their construction careers and learn a trade skill that will help build the foundation for our continued economic growth.
A key challenge to filling Arizona's 10,000 empty construction positions is reaching out to potential talent—opportunity youth, women, and individuals stuck in a job with no progression that are looking to start a career with growth potential and opportunities to earn while they learn.
An entry-level construction job can lead to a fruitful career. More importantly, the average wage for construction trades is $49,000 per year, which is higher than Arizona's average salary across all industries. Construction jobs represent more than just a wage, they represent opportunity.  What's more impressive is that nine out of ten individuals who complete an apprenticeship program are employed.
In an effort to better align training opportunities with employers' needs, the Greater Phoenix Chamber Foundation has gathered leading construction companies to address their talent needs differently, through a collective approach. One of the ways this work is getting started is through the Foundation's Construction Workforce Collaborative.
This collaborative, which includes commercial and residential contractors and subcontractors, is launching a multi-faceted, multi-million dollar career awareness campaign to promote the construction trades. The campaign will focus on showcasing the different career pathways in the construction trades and the different entry points into a fruitful construction career.
Through this collaborative approach, employers are leading the charge and helping to close the gap in this vital industry.
In order to make this campaign successful, the Foundation needs your support! Learn more about how your company can engage with the Construction Workforce Collaborative and work toward solutions that support Phoenix's growing economy.
Click here to learn more.
-Written by Miranda Cain-Morton, Development and Communications Manager займ
займ на карту онлайн моментальный займ на карту без проверок с плохой кредитной историейзайм онлайн на карту без проверки кредитной историизайм 150000 деньга займзайм на карту без отказов круглосуточнозайм под залог птс оформить быстрый займ на картусмс займ онлайнзайм под залог недвижимости срочно