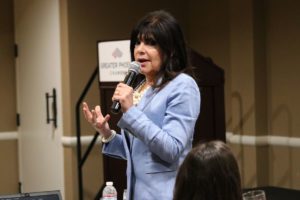 Risk-taking, problem solving and openness to change are all qualities exemplified by Dr. Maria Harper-Marinick, chancellor of the Maricopa Community Colleges.
At the July 10 Professional Women's Alliance (PWA), she shared her journey in life and career.
One of Marinick's favorite quotes is by Maya Angelou, who said, "We delight in the beauty of the butterfly, but rarely admit the changes it has gone through to achieve that beauty."
She said this quote illustrates people's assumptions about others, and how usually people don't always understand each other.
One example is how most people would define her as successful based on her career and her title.
But for her success means something else.
"Success is who I am as a person," said Marinick. "My success is that I have two kids—a young man and a young woman—who are people, who are respectful, decent, and engaged [in society]."
As chancellor, Marinick oversees 200,000 students, nearly 10,000 faculty and staff members across 10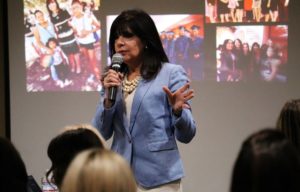 colleges. She possesses 20 years of experience in the Maricopa Community College system.
She started her journey when she came to the U.S. in 1982 as a Fulbright Scholar to complete her graduate work. She holds Master and Ph.D. degrees in education from Arizona State University. From there, her career took off.
After having children and taking a four-year break from the workforce, Marinick stepped back into the workforce and received a career boost and promotion.
But, Harper dreamed of being in education since age five. And she made a choice to pursue her passion with Maricopa Community Colleges.
"Community colleges are known as the colleges for democracy. We are open for everyone," said Marinick.
The goal of changing someone's life for the better keeps her passionate and focused.
"The joy of my job is what we do for the community," said Marinick. "It's what we do for the students."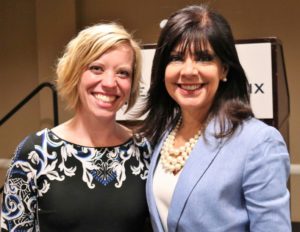 As a mentor, she teaches self-awareness and personal reflection as keys to success and empowerment, which is why her work means so much to her.
"The work I do provides access to opportunity; and this is why I do this work," said Marinick.
As the chancellor of the nation's largest community college system, Marinick serves as a national leader in higher education and an advocate for academic success.
Interested in attending the next Professional Women's Alliance (PWA)? Register to attend PWA on August 7 featuring Congresswoman Martha McSally.
-Written by Miranda Cain-Morton, Development and Communications Manager