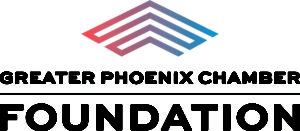 MEDIA CONTACT:
Janelle Tassart
C: 480.215.2149 | O: 602.495.6480
FOR IMMEDIATE RELEASE:
Oct. 2, 2018
PHOENIX – The Greater Phoenix Chamber Foundation in partnership with the City of Phoenix ARIZONA@WORK office is launching a program dedicated to preparing individuals to pass the Securities Industry Essentials (SIE or Essentials) Exam. The SIE is a new certification for prospective securities industry professionals, which assesses a candidate's knowledge of basic securities industry information.
This exam launched on October 1, 2018, and the Greater Phoenix Chamber Foundation and collaborating employers have developed a training cohort to help local residents initiate a career path in this high-growth industry.
Arizona is a financial services hub with a growing number of positions, especially entry-level financial advisors, analysts, and investment professionals. As the number of jobs continue to grow, companies are looking for alternative paths to find the talent needed to expand their operations. These high-growth career opportunities allow employees to earn while they learn.
Local employers Wells Fargo, Charles Schwab, and Vanguard have joined forces to form the Financial Services Collaborative to lead the charge in developing a robust talent pipeline program and growing the local talent pool. The Collaborative incentivizes and assists candidates in passing the required licensing exams set forth by the Financial Industry Regulatory Authority (FINRA). Historically, such exams have served as a career barrier for a large sector of the population. This training program will prepare individuals to pass their SIE exam.
Who is an ideal candidate for a financial services career?
Ideal candidates possess the following skills:
Professional communication and approach to problem solving.
Relationship management and ability to commit to long-term clients.
Driven to perform and meet established goals.
Able to listen, understand, and provide confident feedback.
Passion for quality client service.
What will SIE cohort participants receive?
Free or low cost four-week online course preparing you to sit for the SIE exam
Access to recruiters from participating employers, opening the door for job opportunities
In-person study sessions with fellow cohort members
Interview preparation with financial services professionals
Voucher for the SIE exam fee
In order for a candidate to complete their licensure in finance, FINRA mandates that they must be hired by a company before they can take the final set of licensure exams, commonly known as the Series Exams.  Once a candidate passes the SIE exam, they are eligible for hire by one of the participating financial institutions, who will then sponsor the candidate to take subsequent Series Exams. These additional exams are costly for employers, so supporting a candidate that has already demonstrated competency in finance provides financial institutions additional security as they take on new hires seeking licensure.
Individuals interested in learning more about a career in financial services and participating in the cohort are invited to attend an open house on Tuesday, October 16, 2018.
WHAT: SIE Exam Cohort Open Houses
WHEN/WHERE:
Thursday, October 16
6 – 7:30 p.m.
Phoenix Business and Workforce Development Center
302 N. First Ave., 6th Floor
Phoenix, AZ 85003
###
About the Greater Phoenix Chamber Foundation
Launched in 2016, the Greater Phoenix Chamber Foundation carries out charitable and education objectives by conducting research, forming partnerships and hosting events focused on education, workforce development, wellness and community development.
 
About the Greater Phoenix Chamber
Representing 2,400 businesses across the Greater Phoenix region, the Greater Phoenix Chamber promotes regional prosperity by serving as a catalyst for economic vitality and strong communities. The Chamber pursues this mission by collaborating with business, political and community leaders to grow the regional talent pool, creating a regional approach to economic development and drive a pro-Arizona agenda.