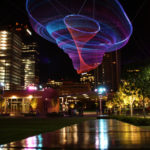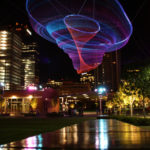 With October marking National Arts + Humanities month, Phoenix is focused on the impact of public art, younger populations and new employees moving into Phoenix, and business and arts partnership opportunities have become increasingly important in efforts to increase employee recruitment, tourism and economic vitality.  GPCC is teaming up with nonprofit Friends of Phoenix Public Art to spotlight the economic benefits of city public art.
Based on a recent national study, Phoenix arts and culture organizations generate more than $400 million in annual economic impact1. With increased understanding that arts and culture experiences positively impact our local economy, nonprofit Friends of Phoenix Public Art is engaging businesses who want to benefit from supporting public art amenities – including outdoor iconic art pieces and a collection and gallery based at Phoenix City Hall. Such collaborative art partnerships can offer distinct businesses visibility and creative branding opportunities than traditional forms of advertising and marketing.
For example, prominently located at the entrance of City Hall, The Gallery @ City Hall is a unique exhibition space supported by business and individual contributions. The current exhibition, From Tap to Source: The Art of Water, on display through January, 2019, highlights how water consumption has developed in Phoenix and encourages conversations regarding water accessibility and the impact it will have throughout the region. A grand opening program provides opportunities for corporate sponsorship.
Exhibit opportunities at The Gallery @ City Hall are open to a wide range of themes relating to the growth and development of Phoenix, offering fresh possibilities for curated artwork and creative conversations.
"Friends of Phoenix Public Art invites partnerships with businesses to support public art programs and maintain our city's icons, and we're excited to share these opportunities stories with Greater Phoenix Chamber of Commerce members in months to come," noted Melissa Huapaya, Friends of Phoenix Public Art board member.
For more information regarding exhibition partnership opportunities at The Gallery @ City Hall, please visit: www.friendsofphoenixpublicart.org
Friends of Phoenix Public Art Information:
Twitter: @PHXpublicart
Facebook: @FriendsOfPhoenixPublicArt
Americans for the Arts. Arts and Economic Prosperity 5: https://www.phoenix.gov/artssite/Documents/AZ_CityOfPhoenix_AEP5_CustomizedReport.pdf