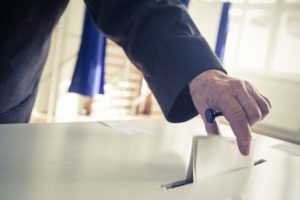 The 2018 midterm elections led to some of the highest voter turnout in general election history in Arizona. Over 3.7 million people registered to vote in this election and nearly 65% of them sent in ballots or showed at the polls. There were several key races that drove voters to the polls, many of which took a week or more to officially call due to extremely close margins. These key races were highly contentious in their campaigns and will change the political landscape over the next term.
Arizona's Congressional delegation now has a Democratic majority with Senator-elect Kyrsten Sinema's victory over Martha McSally, and five out of nine House seats being occupied by Democrats. Although all seats had competition, a majority of the members will return to their respective seat for another term.
Congressional Delegation
District 1
Tom O'Halleran (D)
District 2
Ann Kirkpatrick (D)

District 3
Raul Grijalva (D)

District 4
Paul Gosar (R)

District 5
Andy Biggs (R)

District 6
David Schweikert (R)

District 7
Ruben Gallego (D)

District 8
Debbie Lesko (R)

District 9
Greg Stanton (D)
Executive Officers
At the state level, Republicans maintained the majority of executive offices in Arizona, but two Democrats will take their place among the ranks of these top-level positions as well.
The Greater Phoenix Chamber's Political Action Committee (PAC) identifies and supports pro-business candidates for state and legislative races. During the 2018 election cycle, the Chamber's PAC Board endorsed 59 candidates for office. The Chamber is proud to announce that 85% of Chamber-endorsed candidates secured election to public office.
Governor
Doug Ducey (R)
Chamber-endorsed

Secretary of State
Katie Hobbs (D)

Attorney General
Mark Brnovich (R)
Chamber-endorsed

State Treasurer
Kimberly Yee (R)
Chamber-endorsed

Superintendent of Public Instruction
Kathy Hoffman (D)

State Mine Inspector
Joe Hart (R)

Legislative Representatives
At the Legislative level, the Arizona House of Representatives maintains a Republican majority by a razor-thin margin of 31 members to 29 Democrat members. Approximately one-third of this House are true freshman, meaning they have never served as a legislator. In the Senate, the Republican party maintained their majority by a 17-13 membership difference.
See the Greater Phoenix Chamber's previous post for updates on who won in each district here.
Local election: City of Phoenix
The Phoenix Mayoral race will have a run-off election between Kate Gallego and Daniel Valenzuela in March, which is also when Phoenix residents will vote on council seats for Districts 5 and 8. The election will be held on March 12, 2019. кредит онлайн
быстрые займы онлайн займ в великом новгородемфо электронный займзайм в надыме веббанкир погасить займденьги онлайн займзайм через систему золотая корона росденьги займзайм онлайн без картымини займ на карту