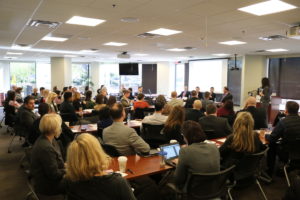 On February 20, the Greater Phoenix Chamber hosted its inaugural State of Maricopa County event as a part of the Economic Development Insider Series.
Chairman of the Maricopa County Board of Supervisors, Supervisor Bill Gates, kicked off the event with an overview of the economic state of Maricopa County and provided insights into what county officials are doing to move the region forward.
Last year, Maricopa County was named the fastest growing county in the country. According to the U.S. Census Bureau, Maricopa County saw a 1.7% population increase and is still considered the fourth most populous county in the U.S. This growth signals big things on the horizon for the region.
"I represent District 3. I want to tell you a little bit about our vision today. Our vision is for a Maricopa County that has a smart government that is using technology and innovating to provide the best services to residents," said Gates. "We're working hard as a Board to be the most forward-thinking county in the U.S."
Gates highlighted several county projects including the redaptive reuse of old county buildings, evaluating how elections function to make it easier for voters, fostering partnerships that make it easier for residents to utilize services, and focusing on working collaboratively with cities to resolve county-wide issues like homelessness.
The county is also focused on continuing to be a large source of big data.
"We are an incredible source of big data. Because of that, back in 2016, our medical examiners started to see this opioid crisis. Recently, Maricopa County has filed a lawsuit against the drug manufacturers at the center of this opioid crisis," said Gates.
With a strong focus on keeping regulations and the tax burden low, Maricopa County is looking toward the future.
"In Maricopa County, we want to become the first smart region," said Gates. "We look forward to working alongside the Chamber and other organizations to establish Maricopa County as a smart region. Maricopa County is a natural place for this development."
Key priorities across the county
After the Gates' remarks, a panel of representatives from various cities and communities discussed key activities that are boosting the vitality of the region.
Each city representative shared their insights on economic development, key growth industries, working collaboratively together and with the County to resolve issues, and the biggest challenges they face in moving forward.
For Bill Jabiniak, the Economic Development Director at the City of Mesa, a big focus is on quality jobs. While Mesa city officials are interested in supporting businesses that bring quality jobs, many businesses are facing workforce challenges; a challenge other cities and the county know all too well.
"Companies are now focused on workforce, workforce, workforce," said Chris Mackay, Community & Economic Development Director at the City of Phoenix. "We're focusing on upskilling our underemployed workforce."
In addition to that though, Mackay highlighted that Arizona's universities, community colleges, and technical certificate programs are staples in the community, stating that Arizona is retaining the workforce it is educating.
Focusing on talent and jobs is vital to the West Valley as well. Jeanine Jerkovic, Economic Development Director of the City of Surprise discussed the west valley's growth.
"We're seeing huge growth in health care jobs," said Jerkovic. "Destiny Springs Behavioral Health just opened and is hiring 300 people out of the gate."
Alongside industry growth, the City of Surprise is excited to see Ottawa Univesity complete its residential campus and be on track to house 800 students next year.
"[We're] creating a hometown university to close our skills gap," said Jerkovic. She added that existing universities do a great job, but the West Valley needed something further west to meet the needs of that community.
In Chandler, creating a strong and stable foundation for business is key for their continued development.
"We look for partnerships when it comes to workforce training," said Micah Miranda, Economic Development Director with the City of Chandler. "We're planting the seeds today for where we are looking to grow ten years from now."
From the conversation with the panelists, it's clear that Arizona's cities are working together and with the County to resolve regional issues such as workforce and infrastructure, and to achieve new goals to make Maricopa County the most competitive county in the nation.
Interested in learning about more about economic development projects in the county? Read an update from Maricopa County's Board of Supervisors.