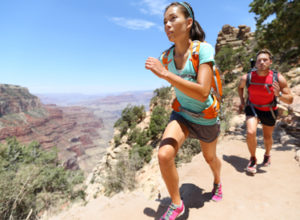 Wellness AtoZ, an initiative of the Greater Phoenix Chamber Foundation, makes Arizona and the Greater Phoenix region known as a destination for healthy living.
In FY19, Wellness AtoZ grew and reached more than 350,000 individuals and provided resources so that these people could live healthier lives filled with nutritious food, quality activities, supportive employers, and holistic lifestyle approaches to wellness.
By providing complimentary wellness-focused toolkits and monthly updates, Wellness AtoZ enables employers to launch a wellness program or to scale an existing program to support their employees' health and wellness goals.
A review of workplace wellness programs from Health Affairs completed by Harvard University researchers and professors Katherine Baicker, David Cutler, and Zirui Song, found that "medical costs fall by about $3.27 for every dollar spent on wellness programs and that absenteeism costs fall by about $2.73 for every dollar spent."
Additionally, Cigna found that worker stress accounts for 20% of direct costs and greatly contributes to high job turnover, strikes, and absenteeism, all of which harms businesses' bottom line.
This year, Wellness AtoZ grew to include more than 95 employers. This is a 56% increase in employers since 2018. The initiative now serves more than 200,000 Arizonans.
Wellness AtoZ employers see tangible results from implementing the four WellnessAtoZ pillars—EatWell, LiveWell, PlayWell, and WorkWell—in their offices. Employers have found significant value in the quarterly WorkWell Forums, which provide an opportunity for HR professionals to convene and share best practices across industries.
In addition to providing workplace wellness resources, Wellness AtoZ offers two annual community wellness challenges. The Wellness Wonders of AZ are free and challenge individuals to participate in seven key activities that encourage them to get out, explore Arizona, and get active.  This year, more than 1,300 people participated in the challenges. They completed more than 5,000 activities and 150,000 hours of physical activity.
Any business can join Wellness AtoZ at no cost and gain recognition as a healthy employer. Companies who opt to become Wellness AtoZ employers see a positive difference in the workplace culture and are better able to meet the needs of their employees and clients.  Listen to how employers believe that Wellness AtoZ is helping their business thrive.
Learn more about Wellness AtoZ and become a Wellness AtoZ employer.