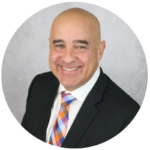 Five days ago, in partnership with the City of Phoenix, we proudly hosted Mayor Kate Gallego for her inaugural State of the City Address.
In front of 1,100 attendees and many more members of the public who watched her speech online, she shared her vision and goals for the future of our city.
As I listened to Mayor Gallego's speech, I was encouraged by her message and her focus on strengthening our economy through strategic investments.
Infrastructure is good for business
Mayor Gallego addressed the vital importance of investing in our infrastructure. From light rail to street maintenance to improvements to our world-class, international airport, Mayor Gallego said it best: "Infrastructure can lift our economy."
Over the past decade, our city—and Phoenix voters—have continually vocalized their support for a modern transit system that encompasses buses and light rail.
Valley Metro's light rail system, which connects Phoenix, Tempe, and Mesa, covers 26 miles with 35 stations and supports more than 16 million riders annually.
Since the light rail began operating in 2008, our city has been transformed. It's become more dynamic and more connected. As Mayor Gallego stated in her address last week, "light rail moves more than people, it moves our economy."
As we approach August, Phoenix voters will be asked to once again show their support for our light rail system with their vote. If Prop 105 were to pass, the redistribution of funds could ultimately result in a loss of more than $5 billion in federal and regional funds. Those funds support more than just light rail. They support many facets of our transportation and transit systems.
I'm proud to say that the Greater Phoenix Chamber stands with Mayor Kate Gallego in support of light rail and we've asked our members to stand in opposition to Prop 105, which would damage the value that light rail provides to our city.
Improving business access
We all know that small businesses are the heart of our economic engine in Phoenix.
During her remarks, Mayor Gallego addressed an issue that is of vital importance to the Chamber and our members—making it easier and more accessible for businesses to do business with the city.
In her time as Mayor, she's already made significant strides to ease the burden on businesses. She's working diligently to make it easier for businesses to obtain the permits and licenses they need to operate and expand. In fact, she's dedicated funds to help new business owners work with the city.
When businesses and our city work together, everyone benefits.
Developing workforce for a stronger city
Phoenix's economy is ever evolving to meet new demands—Phoenix's health care and bioscience sector is booming, and our financial services sector challenges Wall Street in size and scope.
Industries are growing and expanding, and our community needs to be developing a workforce to meet the demands of the business.
This is why the Greater Phoenix Chamber Foundation is focused on strengthening our region's talent pipelines. Our Foundation has developed workforce collaboratives that convene industry leaders to develop solutions to their most pressing talent challenges. As a result of those collaboratives, we've launched several programs. From AZCyberTalent.com to the creation of the Financial Industry Training program to our efforts to create a Build Your Future Arizona career awareness campaign for the construction industry, we're making strides to ensure that business is a leader in workforce development.
With her focus on high-quality job growth, I know that Mayor Gallego understands the importance of developing home-grown talent and helping Phoenix's residents be successful in all career pathways.
From Mayor Gallego's first State of the City Address, it is clear that Phoenix is moving forward. We look forward to working with the Mayor and other stakeholders to sustain that growth and the business diversity in our community.