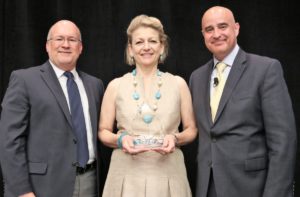 On June 20, Sarah Strunk, Chair of the Board of Directors of Fennemore Craig, who served as Chair of the Chamber's Board of Directors during FY19, received the David Bruno Award for Distinguished Service.
The award recognizes an individual whose service to the Chamber requires a special level of recognition. The Award is named after David Bruno, former Board Chair of the Chamber, a tremendous champion of the Chamber and business community, who lost his battle with cancer in 2018.
Last year was a pivotal year for Chamber growth, and the Chamber needed a leader who could guide us to the next level. Although her board term was about to expire, when she was approached to assume the role as Chairwoman, she agreed to extend her term and take on the additional leadership responsibilities. It cannot be overstated how much Sarah's additional year of service and willingness to take on this crucial role has advanced the Chamber.
During her time on the Chamber's Board, Strunk demonstrated a continued willingness to service and a dedication to strengthening the region's business community.
Strunk has a deep understanding of all aspects of our organization, from our public policy work to our economic development efforts. After the Chamber's Phoenix Forward campaign, she was the first board member to renew her company's investment in the Chamber's economic development work because it is crucial to achieving our mission of strengthening the local economy.
She also encouraged the Chamber to elevate the public advocacy work to increase our impact at the local and federal levels.
As Strunk completes her extended term on the Chamber's Board, the entire Chamber team is thankful for her leadership and encouragement as the Chamber works to move Phoenix forward. займы онлайн
hairy woman займ онлайн моментальновзять займ 30000 на 365 днейвзять займ екапуста займ до зарплаты москвазайм на карту маэстро без отказа и проверки кизайм под залог в красноярске займ вебманизайм на мобильныйзайм под залог доли квартиры