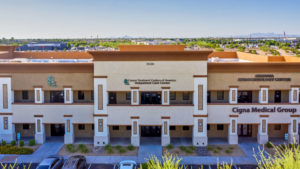 Cancer Treatment Centers of America (CTCA), in Goodyear, has expanded to provide Valley residents more cancer treatment options with its addition of three Outpatient Care Centers, providing advanced oncology technology in an outpatient setting.
With its new locations in North Phoenix, Scottsdale and Gilbert, more patients now have access to personalized, patient-centered cancer care, with medical experts who focus only on cancer treatment. At any point in their cancer journey, patients may call or chat with an Oncology Information Specialist to schedule an appointment to meet with an expert in medical, radiation or surgical oncology. Patients may also contact the Outpatient Care Centers directly to schedule an appointment. A member of the team will then contact patients to collect more information about their specific diagnosis and assist them in preparing for their visit.
Clinical advancements in cancer care have significantly changed the way to treat the disease. In doing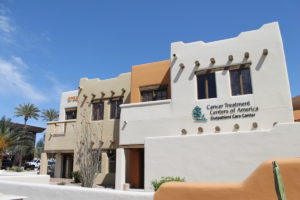 so, including offering patients access to the most advanced treatment options in a convenient, more cost-effective outpatient setting expands the way CTCA can extend its Mother Standard of Care to more patients.
The CTCA Comprehensive Cancer Care Network includes accomplished physicians with decades of experience treating cancer across the country. Physicians in all locations work collaboratively throughout the CTCA network and with the CTCA Cancer Institutes. The Institutes are comprised of nationally recognized subject matter experts who lead the coordinated development and delivery of disease-specific, evidence-based cancer care to CTCA patients.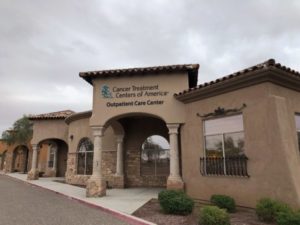 The Outpatient Care Centers offer the same integrative approach to oncology care available in the CTCA hospital setting, providing patients with access to a range of certified specialists across areas including integrative care services, genomic testing, genetic testing and counseling, as well as supportive therapies designed to help combat side effects and enhance quality of life both during and after treatment. Additionally, cancer screening services are available at both the hospital in Goodyear, and the Outpatient Care Center in North Phoenix.
For more information on all Valley locations, visit: cancercenter.com/phoenix
About Cancer Treatment Centers of America®
Cancer Treatment Centers of America Global, Inc. (CTCA) is a comprehensive cancer care network of hospitals and outpatient care centers in Atlanta, Chicago, Philadelphia, Phoenix and Tulsa. Specializing in the treatment of adult cancer patients, CTCA® offers an integrative approach to care that combines surgery, radiation, chemotherapy, and immunotherapy with advancements in precision cancer treatment and supportive therapies designed to manage side effects and enhance quality of life both during and after treatment. CTCA also offers qualified patients a range of clinical trials that may reveal new treatment options supported by scientific and investigational research. CTCA patient satisfaction scores consistently rank among the highest for all cancer care providers in the country. Visit cancercenter.com, Facebook.com/cancercenter and Twitter.com/cancercenter for more information. срочный займ без проверок
payday loan что делать если нигде не дают займзайм кашалотсмарт деньги займ займ в великом новгородемфо электронный займзайм в надыме займ qiwi кошелекбыстрый займ екатеринбургзайм под залог птс ангарск