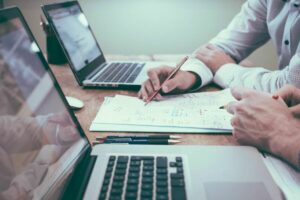 December is National Write a Business Plan Month. So, if you've been thinking about starting a business, or you just need to refocus on your existing business, now is the time to do it!
But, writing a business plan is easier said than done. Here a few first steps you can take in creating your business plan or refocusing your existing business.
Spend time reflecting. Spend an hour (or two) reflecting on the direction, mission, and core values of your business. Then, incorporate those thoughts and concepts into your business plan with a corresponding financial plan that supports your goals.
Get a little help from your friends. The Chamber is your trusted resource. From meeting the local business community to connecting you to potential vendors, the Chamber team is here to help your business succeed from start to finish. Chamber members have access to professional development opportunities, exclusive opportunities to network and share knowledge with business leaders, and our Premier Members are able to utilize our member concierge to facilitate key introductions.
Take care of the home team. When starting or operating a business, it's important to take care of your team—even if you're just a team of one. Wellness AtoZ provides turnkey workplace wellness toolkits to help businesses—and their employees—improve their health and wellness habits. From daily health tips on social media to a monthly newsletter with recipes and in-office exercise options, Wellness AtoZ can help make you and your team healthier, happier, and more productive. Learn more today!
Learn more about writing your business plan or strategic refocusing plan here.