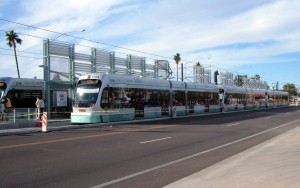 In August, Phoenix voters opposed Proposition 105, showcasing the city's overwhelming and continued support for a multi-modal transit system that includes robust light rail lines.
With the failure of Prop 105, the City of Phoenix will be expanding its existing light rail system to connect downtown Phoenix to south Phoenix. Construction for the additional line rail system has already begun when complete will connect the existing system to Baseline Road.
The existing light rail system covers 26 miles between Phoenix, Tempe, and Mesa, and includes 35 stations, and 11 park-and-rides. The daily services connected more than 15.7 million passengers in FY2018 (Valley Metro).
Since opening in 2008, the light rail system has supported $11 billion in economic activity.
The light rail system enhances the region's connectivity by increasing mobility, encouraging more walkable communities, and providing an additional public transit option for residents and tourists.
The Transportation 2050 plan will expand bus routes and operational hours, develop and increase the miles and routes of high-capacity transit such as light rail and bus rapid transit, and add funds to street maintenance. Specifically, Transportation 2050 will add 42 miles of light rail in the City of Phoenix.
Expanding the reach of light rail serves to ensure that Phoenix proper and the Greater Phoenix region increase their connectivity and truly act as a conduit to connect people to new places and economic opportunities.
The South Phoenix light rail extension is a natural next step to increase the city's connectedness and support continued economic growth.
According to Valley Metro, "Light rail makes the unique offerings of South Phoenix more accessible to others, attracting new customers, businesses, and jobs to the area."
Light rail construction can be a temporary challenge for existing businesses; however, Valley Metro and their partners work diligently to assist those businesses so they continue to thrive during the construction phase.
While challenges may exist for businesses along the construction line, there is potential for business growth when the light rail extension begins operating and shuttling more people into the area.
According to EconWorks, "more than 302 development projects have been completed or are currently (as of 2017) under construction along the Valley Metro light rail line." And the development projects saw a $10 billion investment in the areas around light rail.
In the end, Phoenix voters support the continued growth of light rail and increasing the connectivity in the region.
-Written by Miranda Cain-Morton, Development and Communications Manager