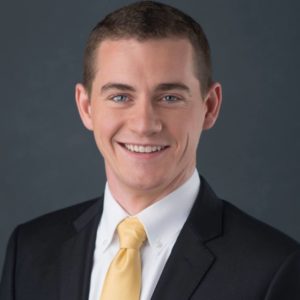 By: Adam McAnally: Analyst, Public Power Relations, SRP
As the 48th state in the union, Arizona is a relatively young state in comparison to the rest of the nation and that extends to our population. The median age in Arizona is 37 and, in 2017, young adults between the ages of 18 – 34 accounted for approximately 23% of the state's population.
2020 is going to be a pivotal political year for Arizona. From the US Senate election to local elections in the state House of Representatives and the state Senate, it is vital that Arizonans, especially young adults, engage in this process and have their voices heard.
As a young professional who has spent his career in public policy and politics, I have a unique perspective on the importance of civic engagement. In my career, I've had the privilege to work for two of Arizona's Governors and now proudly work at SRP. Additionally, I've served on the Valley Young Professional's Board of Directors and now serve on the Greater Phoenix Chamber's Board of Directors.
Even with my background and expertise in public policy, I understand that staying informed and engaged can be a challenge, especially when you're trying to advance your career, learn new skills, and ensure you're innovating in your industry. But, I'm here to tell you that you can be informed, engaged, and make an impact in your community with a few, small steps.
Be Informed. With the amount of information available at our fingertips, literally, it's becoming hard to use a lack of information as an excuse not to get out and vote. When it comes to reviewing local candidates, the Chamber can be a resource for you as well! Keep an eye out for the Chamber's voter guide this summer.
Go vote. The most important thing you can do for your community and Arizona's future is vote. Voting is the best way to be civically involved in the community while having your voice heard on the local, state, and federal levels. This year is a big election year for all levels of government, and it is important to take the privilege of being able to vote seriously. I encourage you to ensure that you are registered to vote. The deadline to register to vote for the 2020 General Election is by midnight on October 5, 2020.
Get involved. Being involved in local organizations, such as the Chamber, can also be a great way to advocate for change in the community. Obviously, you're already engaged in the Chamber, but you can take that a step further by getting involved in the Chamber's Public Affairs program by joining a committee or just reading the 2020 Public Policy Guide. Additionally, the Sandra Day O'Connor Institute provides education on important policy information that affects our future, as well as opportunities through their Emerging Leaders Network (ELN) to gain a greater understanding of the roots and structure of our democracy and how to participate more fully as citizens in American Life.
Get Counted. In addition to this being an important election year, 2020 is also the year of the Census, which starts on April 1. This will determine Arizona's Congressional representation for the next 10 years. It will also help determine the funding for important State of Arizona programs in healthcare, transportation, and education. Making sure all Arizonans are counted this year will resonate a decade from today. The Chamber's President and CEO Todd Sanders is helping on this effort with the City of Phoenix Complete Count Committee, but we can all help by being counted and communicating the importance of being counted at our businesses and in our communities.
Civic Engagement can also be a form of leadership within your professional development. To be involved in the community requires having knowledge of what is going on. Living in the nation's fifth largest city, there are ample opportunities for things to see, do, and support. In today's world, knowledge is power and having knowledge of what is going on in the community will allow you to be someone people look to for information and opinion.
As you're planning for your new year and setting goals, make it your resolution to be informed, get involved, and make an impact in your community.