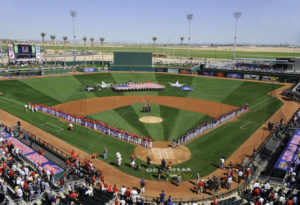 As 2020 gets underway, the Valley is preparing for everyone's favorite pastime: sports.
From golf to baseball and soccer to fast cars, the region is about to be overrun with fans, spectators, and out-of-town visitors, and businesses are ready for the fringe economic benefits of the Valley's spring sporting events.
In 2018 alone, the Waste Management Phoenix Open (WMPO)—known as the greenest show on grass—produced a total economic impact of $390 million. Between 2012 and 2017, the economic impact of the WMPO has continued to soar, increasing approximately 65% during those five years.
This year's WMPO tournament takes place between January 27 and February 2.
And then, on February 21, the batters will be up with the start of Cactus League spring training.  With stadiums across the Valley, fans can catch a ballgame any day, anywhere.
In 2018, with close to 200 games and 1.8 million fans, the Cactus League generated significant impact across Arizona, which produced a total economic impact of $644. As a part of this impact, the events supported 6,400 jobs and $31 million in state and local taxes. And, the league continues to grow in popularity.
In between baseball games, Valley residents and tourists can check-out the Valley's latest sports stars—Phoenix Rising, who will kick-off their 2020 season in March. With the addition of Phoenix Rising, the East Valley officially has a home-town team that has seen major success on and off the field.
Valley residents with the need for speed flock to Phoenix Raceway (formerly ISM Raceway) for FanShield 500 NASCAR weekend, March 6-8.
With two race weekends every year, Phoenix Raceway generates $425 million in economic activity annually.
In addition to that, the facility recently completed a $178 million modernization project, showcasing their dedication to Arizona. As a result of this investment, Phoenix Raceway will host the NASCAR Championship Weekend in November 2020.
And, the decade will be big for Arizona and local sports fans. Arizona is slated to host the Super Bowl in 2023 and the Final Four in 2024.
The big business of sports is great for Arizona's growing economy and residents looking to enjoy the best thing about Arizona, the climate!
-Written by Miranda Cain-Morton, Development and Communications Manager