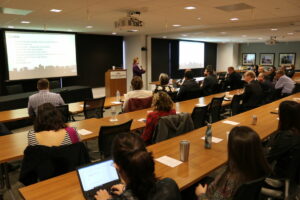 At the December 18, the Chamber's Economic Development Insider Series featured a panel of local leaders to discuss Downtown Phoenix's boom.
Downtown Phoenix is quickly becoming the hottest place to do business. Local experts involved in the ongoing revitalization of Downtown Phoenix discussed key growth areas like Block 23, Central Station, the Warehouse District, Roosevelt Row, and the soon to be renovated Talking Stick Resort Arena.
Panelists included Chris Mackay, Community and Economic Development Director, City of Phoenix; Jeff Moloznik, Vice President of Development, RED Development, LLC; and Ralph Marchetta, Sr. Vice President of Ticket Operations & General Manager of Sports & Entertainment Services, Phoenix Suns.
Mackay set the stage with an overview of downtown's revolution. As most know, Mackay shared that Downtown Phoenix suffered a downturn in 90s as people fled to the suburbs.
"Since the recession, people have moved back into the downtown core. It's done a complete 180," said Mackay. "Downtown has become this livable, creative, connected place to be."
According to Mackay, 2008 is when downtown started to rise. The start of the region's transformation can be credited to several converging factors, such as the development of light rail in the area and ASU's downtown campus. Today, downtown Phoenix boasts 58,000 workers, 400 technology companies, and will be adding 12,000 residents in the next 24 months.
The transformation of Downtown Phoenix is the result of several coalescing efforts from the City of Phoenix, community and education organizations, and businesses.
"I think it's the culmination of the collective effort of everybody to encourage others to reinvest," said Moloznik.
Moloznik talked about RED Development's efforts with the City of Phoenix to develop CityScape and Block 23.
"A public-private partnership with the City of Phoenix was uncharted waters," said Moloznik. "It's been fun because everything is new."
For Block 23, the commercial projects, like Fry's Food Stores downtown location, are complete, and the residential projects are making steady progress.
"There are going to be a 1,000 apartment units across three blocks that will be anchored by the grocery store," said Moloznik.
And, innovative and unexpected partnerships are key to maintaining downtown's growth.
Marchetta discussed how key partnerships have added value to Talking Stick Resort Arena (TSRA) events.
"One thing we talk about a lot is our partnership with light rail," said Marchetta. "Anyone who buys a ticket at our facility gets a free round-trip ticket on light rail."
Today, TSRA hosts an average of 40 concerts a year.
"The concert business drives huge economic impact around us," said Marchetta. "It creates a sense of a 'happening' scene."
As city leaders, developers, business owners, and community partners continue to breathe new life into Phoenix's downtown core and envision what the future looks like, collaboration and showcasing all of the amazing businesses, entertainment locations, restaurants, and residential places will be key to propelling the region forward in 2020.
Interested in learning more about the region's economic development projects and trends? Attend the next Economic Development Insider Series on February 19. Register today!