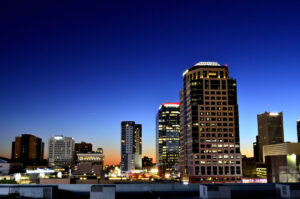 At the Greater Phoenix Chamber, we recognize the role each of our members plays in the economic success of the Greater Phoenix region. Whether you are one of our valuable small businesses or a large corporation, the Chamber is here to help elevate your reach, expand your network, and grow the region's economy so you can take care of business.
Our Premier Members receive increased benefits and engagement opportunities as a part of their upgraded membership. The following are a few of the benefits you will have access to as a premier member.
Promotional Video and Profile
When you become a Premier Member at the Chamber, we work with you to create a customized video and profile that is featured on the Chamber's website and social media channels. More importantly, though, you receive a copy of that video to talk about your business, your way!
Tickets to Attend the Best Events in Town
At this level of membership, your company will receive a set number of complimentary tickets to our larger events including the ATHENA Awards, Economic Outlook, IMPACT Awards, and Mayor's State of the City Address. You will also receive tickets to our professional development and networking programs, which include the Power Connect Lunch and Professional Women's Alliance.
Marketing Credit
As a Premier Member, you are allotted an annual marketing credit that can be used to showcase your business on the Greater Phoenix Chamber's website, in our monthly newsletters, and directly to other members through direct mail advertising.
Public Affairs Committee
In addition to being able to participate in our Issue Committees, our premier membership provides you with voting rights in our Public Affairs Committee. This committee analyzes local and state policies to establish Chamber positions, and help establish the Chamber's annual Public Policy Guide.
Access to Chamber Concierge
Premier members are connected with the Chamber's Premier Engagement Manager who works directly with you to get you connected with other businesses, helps you maximize your Chamber membership, and is available to answer all of your key questions.
For more information about becoming a Premier Member, contact Debbie Drotar, Business Development Director, at ddrotar@phoenixchamber.com .
-Written by Annelise Patterson, Marketing and Communications Coordinator