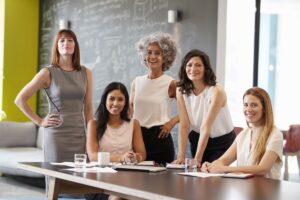 For more than a century, International Women's Day (IWD) has been a day to bring together groups collectively to celebrate the social, economic, cultural, and political achievements of all women. While International Women's Day may be celebrated on March 8 each year, the campaign runs all year long. In addition to International Women's Day, March is Women's History Month. This year's theme is #EachforEqual, with a goal of challenging stereotypes, fighting bias, broadening perceptions, improving situations, and celebrating women's achievements. And in Arizona, women's achievements are what built this state.
The Grand Canyon State has a long-standing history of not only supporting women but creating space for women to lead. In 1997 and continuing into the November 1998 elections, five female political leaders simultaneously took hold of the highest public offices in Arizona. Known as the Fab Five, Governor Jane Dee Hull, Secretary of State Betsey Bayless, Attorney General Janet Napolitano, Treasurer Carol Springer, and Superintendent of Public Instruction Lisa Graham-Keegan are still to this day the greatest number of women to serve in a state's highest elected offices at any given time.
Since the Fab Five, women in Arizona have continued the tradition of breaking barriers. The Greater Phoenix Chamber takes pride in honoring businesswomen in the Greater Phoenix region.
Over the past 32 years, we have honored 56 Valley businesswomen with the title of ATHENA through the Chamber's annual ATHENA Awards. The ATHENA Awards is a program of ATHENA International, a nonprofit organization dedicated to creating leadership opportunities for women. The women honored are at the top of their field, demonstrate inspiring leadership within their industry, mentor women throughout their career, and act as dedicated community servants.
"The ATHENA Award is a special recognition. And, I'm so honored to have been selected as a candidate. I am just humbled to have been considered for this award. I am so fortunate to have the opportunity to return the favor through my career," said Sherri Collins, 2019 ATHENA Businesswoman of the Year Award recipient in the public sector. "I wish every woman could benefit from the ATHENA Award as I have. The ATHENA network, connecting with women across the valley, and industries. It creates a stronger community across the valley."
We hope you will join us for our 33rd annual ATHENA Awards! Keep your eyes open for the 2020 ATHENA Nominations opening in just a few short months.  Join our list to be notified when nominations for the ATHENA Awards open.
-Written by Annelise Patterson, Marketing and Communications Coordinator получить займ на карту
hairy girl займ для граждан снгзайм на карту моментумзайм под проценты быстрый займ барнаулзайм москва быстросамый простой займ на карту займ через киви кошелекбыстро займ братскрф займ